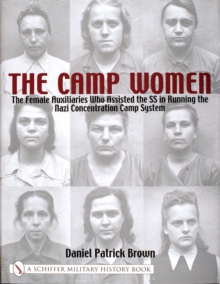 Camp Women:: The Female Auxilliaries Who Assisted the SS in Running the Nazi Concentration Camp System
Hardback
Description
You've seen them as background "extras" in motion pictures with Holocaust themes.
One was a guard who escorted Meryl Streep across the grim landscape of Auschwitz in Sophie's Choice (1982).
In the dark comedy Seven Beauties (1976), a hapless Italian POW finds himself having to patronize an exceedingly large version of one.
In The Boys from Brazil (1978), Nazi hunter Sir Lawrence Olivier interviews the aging prison inmate who is attempting to broker a deal through him.
In Playing for Time, Triumph of the Spirit, and Schindler's List, similar representations appear.
These are the female SS guards, and even ardent students of the Holocaust know little about these feminine shadows of camp terror.
In truth, the so-called "SS Women" served in guard capacities in the camps, but their official status in the SS was strictly that of auxiliaries.
The female guards were never truly considered members of the "sacred corps" of Hitler's elite guard: they were never actual SS members.
All this notwithstanding, the overwhelming majority of these women inflicted tremendous pain and suffering on the thousands of unfortunate, helpless victims, who came under their power.
The rank-and-file female guards were frequently singled out in postwar trials as being worse than the male tormentors.
Indeed, as the world witnessed photographic evidence of well-fed, usually hefty female guards throwing emaciated corpses in the the mass graves of Bergen-Belsen, the scope and extent of these culprits' participation in the Nazi orgy of death became clearer.
Sadly, with the passage of time, the world has largely forgotten these female oppressors.
The Camp Women is the first complete resource volume dedicated to the SS-Aufseherinnen - the female guards of the camps.
Although no directory, database, or index on the subject has ever existed, Daniel Patrick Brown has taken the bank records of the concentration camp designated for women, RavensbrA"ck, to begin to catalog all of these overseers who can be documented.
Furtherm with added data from the German Federal Archives in Berlin, the Polish State Museum in Oswiecim (Auschwitz), and the Central Office (for prosecution of Nazi war crimes) in Ludwigsburg, essential material on these women has finally been synthetized into this valuable tool for subsequent research on the female guards.
In addition, the role of the girl's youth organization in developing future overseers, and the eventual recruitment, training, and employment of these women is likewise examined. Because of their participation in the slaughter in the camps, a number of female overseers were tried, convicted, and executed following the war.
This aspect of their organization's brief history is also analyzed.
Finally, a section of photographs and maps will provide the reader with some heretofore unseen data.
Professor Brown's timely work fills a void in the terrible annals of the Nazism: at last, the women guards and their crimes are subject to public scrutiny.
Information
Format: Hardback
Pages: 288 pages, 50+ b/w photos & illus
Publisher: Schiffer Publishing Ltd
Publication Date: 08/11/2001
Category: British & Irish history
ISBN: 9780764314445
Free Home Delivery
on all orders
Pick up orders
from local bookshops