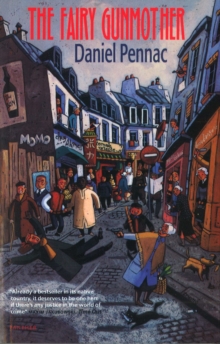 Fairy Gunmother
Paperback
Description
A policeman on a mission of mercy is shot dead at point-blank range by a sweet old granny on a frosty morning.
The neighbourhood, Paris's bubbling Belleville quarter, is already in uproar because half a dozen other grannies have been found with their shrivelled throats slit.
Into this tense situation stumbles Benjamin Malaussene with an overly complicated life that includes his voluptuous red-haired girlfriend, Julie, and his smelly epileptic dog, Julius.
Maniacally inventive - some have called it deranged - Pennac's creations in The Fairy Gunmother have achieved cult status all over Europe.
Information
Format: Paperback
Pages: 256 pages
Publisher: Vintage Publishing
Publication Date: 18/06/1998
Category: Crime & mystery
ISBN: 9781860464454
Free Home Delivery
on all orders
Pick up orders
from local bookshops
Reviews
Showing 1 - 1 of 1 reviews.
Review by pgmcc
16/06/2015
This is a murder mystery set in Paris in 1982, but it is much more than that. As well as being humorous it is a social commentary on life in the French capital and it portrays racism and corruption at various levels. To go into plot detail for a murder mystery would be a bit silly as it would destroy much of the point of anyone's reading the book. Suffice it to say the murder mystery element of the story is sophisticated enough to satisfy any fan of such stories, but if that was the only thing said about the book it would not do justice to the richness of the story and the multiple levels at which it operates.I read this book with no prior knowledge of Daniel Pennac or his work. I found it in the Books Upstairs bookshop in Dublin, a small, quirky place which stocks a wonderful selection of books that excludes best sellers and other trivia. In this bookshop I discovered many authors whose work I now love and I picked up The Fairy Gunmother on spec based on my previous experience of trying new authors discovered in this establishment.I have not been disappointed.The story is unconventional in many ways and the plot takes the reader in many unexpected directions. I turned to this book to give me some light relief after reading several serious World War II volumes and it did the job in an intelligent and thoughtful fashion.I will be reading more Daniel Pennac novels.In relation to the translation, Ian Monk did an admirable job in that his translation did not hinder the telling of the story. He had to contend with translating slang which must be a nightmare for any translator. He took the approach of translating such slang into equivalent words and expressions found in England, e.g. in referring to the police he used the term, "The Old Bill". This is very English but given that the French original would be meaningless to someone reading the book in English it is a fair enough convention to adopt and it is a small price to pay as a reader to gain access to this wonderful story.