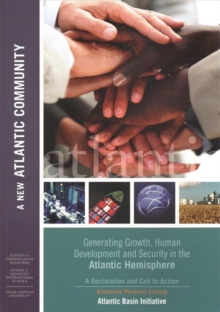 A New Atlantic Community : Generating Growth, Human Development and Security in the Atlantic Hemisphere
Paperback / softback
Description
As Eminent Persons of our Hemisphere, we are united in our drive to build a dynamic and harmonious Atlantic Community by champining free and open trade and investment, promoting access for all to affordable energy, accelerating human development, encouraging economic, educational and technical cooperation, respecting human dignity and enhancing human security, facilitating a favorable business environment, generating sustainable and inclusive growth and development, and cultivating a culture of lawfulness across our four continents.
Through our activities we seek to turn policy goals into concrete results and agreements in tangible benefits.
We seek to advance our cooperation by engaging those with shared values as well as interests, and in being primarily non-governmental, less constrained by official positions.
Information
Format: Paperback / softback
Pages: 42 pages
Publisher: Brookings Institution
Publication Date: 30/11/2017
Category: Trade agreements
ISBN: 9780989029469