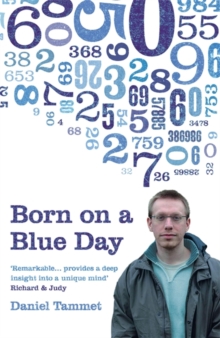 Born on a Blue Day : The Gift of an Extraordinary Mind
Paperback
Description
'I was born on 31 January 1979 - a Wednesday. I know it was a Wednesday, becasue the date is blue in my mind and Wednesdays are always blue, like the number nine or the sound of loud voices arguing.'Like the character Hoffman portrayed, he can perform extraordinary maths in his head, sees numbers as shapes, colours, textures and motions, and can learn to speak a language fluently from scratch in three days.
He also has a compulsive need for order and routine.
He eats exactly 45 grams of porridge for breakfast and cannot leave the house without counting the number of items of clothing he's wearing.
If he gets stressed or unhappy he closes his eyes and counts.But in some ways Daniel is not all like the Rain Man.
He is virtually unique amongst people who have severe autisitic disorders in being capable of living a fully-functioning, independent life.
It is this incredible self-awareness and ability to communicate what it feels like to live in a totally extraordinary way that makes BORN ON A BLUE DAY so powerful.
Information
Format: Paperback
Pages: 304 pages
Publisher: Hodder & Stoughton General Division
Publication Date: 22/02/2007
ISBN: 9780340899755
Free Home Delivery
on all orders
Pick up orders
from local bookshops
Reviews
Showing 1 - 3 of 3 reviews.
Review by Capfox
16/06/2015
I like the harder sort of cognitive philosophy or research, generally speaking. Sometimes, though, you have to go for something that's more human and less theoretical, and look at the experiences of the people who are dealing with these syndromes we study, and if you're feeling that this is one of those times, then this is the right book for you. It's charming and interesting, at the same time.Tammet is a very high functioning Asperger's person, with synaesthesia and savant syndrome, and he lays out some of his thought patterns on those fronts for the reader, to get an idea of how he views the world. He discusses how he sees numbers as particular shapes with particular properties, and how he approaches language learning, and his abilities to deal with other people; even just about how he is in his own body. That's all very interesting, as well.But in a way, my favorite parts of the book are just how he got through life. The descriptions of how he dealt with growing up, with his family and schoolmates and such, was very interesting, and it surprised me how much I could relate to what he said. The passages about how he found living in a different country (in his case, Lithuania), and his thoughts about falling in love and the importance of relationships, were very moving, as well.The style is spare and simple, but compelling, and the story is really engrossing and inspiring. This may not be the best book I read this year, but it's probably my favorite non-fiction one. It's definitely worth a read, if you have the chance.
Review by judithann
16/06/2015
Interesting book. The writer manages very well to describe his life. I wonder if it's been edited by someone else. The information was sometimes quite general, whereas an autist would be more specific, especially where it concerned number of people or the time spent doing something. Something like: "It took me some time to understand that ..." [not an actual quote], would be written by an autist as "It took me 3 months and 2 days to understand that...". Furthermore, how could the author be sure that all aspects of his behaviour where due to his autism? Lots of what he describes I recognise as also being true for myself, although maybe to a lesser degree. For instance, he has problems with sudden loud noises, well, me too! They could make me cry when I was a child. Or not liking to leave the house. Well, I often like to stay in, for sure. Going over chess matches at home to see how it could be done better next time: I think lots of serious chess players do that. The book gave an interesting description of the life of Daniel Tammet, although how much of it is related to his autism wasn't always clear to me.
Review by LynnB
16/06/2015
Daniel Tammet has synaesthesia, savant syndrome and Asperger's. He has written a book about his life that is honest and provides great insight into the thoughts and feelings of people living with these conditions.I found the book fascinating. Daniel sees numbers as unique shapes and colours and he explains how this helps him to calculate and to remember sequences, such as the digits of pi. He also explained his feelings and how he interacts with people. It is a very honest book, written in the hope of helping others understand the conditions Daniel lives with. It is easy to read and engagingly written.