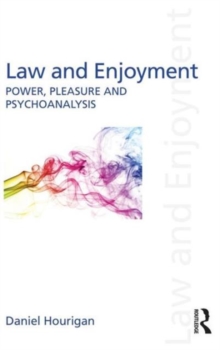 Law and Enjoyment : Power, Pleasure and Psychoanalysis
Hardback
Description
This book advocates, and develops, a critical account of the relationship between law and the largely neglected issue of `enjoyment'.
Taking popular culture seriously - as a lived and meaningful basis for a wider understanding of law, beyond the strictures of legal institutions and professional practices - it takes up a range of case studies from film and literature in order to consider how law is iterated through enjoyment, and how enjoyment embodies law.
Drawing on psychoanalytic theory, this book addresses issues such as the forced choice to enjoy the law, the biopolitics of tyranny, the enjoyment of law's contingency, the trauma of the law's symbolic codification of pleasure, and the futuristic vision of law's transgression.
In so doing, it forges an important case for acknowledging and analyzing the complex relationship between power and pleasure in law - one that will be of considerable interest to legal theorists, as well as those with interests in the intersection of psychoanalytic and cultural theory.
Information
Format: Hardback
Pages: 167 pages
Publisher: Taylor & Francis Ltd
Publication Date: 05/06/2015
Category: Literary theory
ISBN: 9781138815964