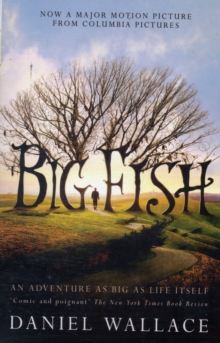 Description
Throughout William's childhood, his much-absent father, Edward, regaled him with tall tales of his exploits as a young man.
But now that his father is dying, William must get to know the real Edward Bloom, before it's all too late.
Inspired by the fragments of stories he's gathered over the years, William recreates his father's life in a series of legends and myths, through which he begins to understand Edward Bloom's great feats - and great failings - at last finding a way to say goodbye.
Information
Format: Paperback
Pages: 192 pages
Publisher: Simon & Schuster
Publication Date: 01/01/2004
ISBN: 9780743484251
Free Home Delivery
on all orders
Pick up orders
from local bookshops
Reviews
Showing 1 - 3 of 3 reviews.
Review by phoebesmum
16/06/2015
I read this straight after I'd seen the movie. It is, of course (as always), completely different. Less sentimental, but more affecting, it's almost like a love song to his (one assumes late) father. Not a theme with which I can really sympathise.
Review by cestovatela
16/06/2015
Edward Bloom is terrified of intimacy and so he tells jokes and tall tales. When that's not enough, he travels across the world, earning money but alienating his family. Big Fish is both a compendium of the stories Edward tells and his son William's attempt to make sense of his dying father's life. It's a great premise that Wallace ultimately doesn't write in an interesting way. Edward's stories are mostly retreads of American folklore. His moments with William are sometimes very touching, but there aren't very many of these in the book. Mostly it's just the story of a little boy with a distant father and although that's sad, it's too ordinary a story to make an interesting novel.
Review by bibliophile26
16/06/2015
Maybe it was because this was the first book I read after the end of the Harry Potter series, but I had major issues with this book. Written in the style of ancient myths, Edward Bloom does many amazing things. It is clear that none of these things happen and that the purpose of these stories is to cover up the fact that he is a shitty husband and father. The one that romanticized the fact that he was an adulterer pissed me off the most. I do plan to check out the movie though.