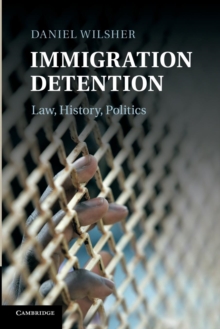 Immigration Detention : Law, History, Politics
Paperback / softback
Description
The liberal legal ideal of protection of the individual against administrative detention without trial is embodied in the habeas corpus tradition.
However, the use of detention to control immigration has gone from a wartime exception to normal practice, thus calling into question modern states' adherence to the rule of law.
Daniel Wilsher traces how modern states have come to use long-term detention of immigrants without judicial control.
He examines the wider emerging international human rights challenge presented by detention based upon protecting 'national sovereignty' in an age of global migration.
He explores the vulnerable political status of immigrants and shows how attempts to close liberal societies can create 'unwanted persons' who are denied fundamental rights.
To conclude, he proposes a set of standards to ensure that efforts to control migration, including the use of detention, conform to principles of law and uphold basic rights regardless of immigration status.
Information
Format: Paperback / softback
Pages: 422 pages, Worked examples or Exercises
Publisher: Cambridge University Press
Publication Date: 19/06/2014
Category: Human rights
ISBN: 9781107417021