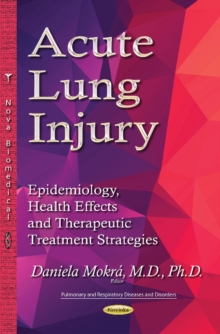 Acute Lung Injury : Epidemiology, Health Effects and Therapeutic Treatment Strategies
Paperback / softback
Description
In this book, authors review the current knowledge on acute lung injury (ALI).
ALI/acute respiratory distress syndrome (ARDS) is characterized by diffuse alveolar damage, alveolar capillary leakage, lung edema, neutrophil-derived inflammation, and surfactant dysfunction.
These changes lead to clinical manifestations of decreased lung compliance, severe hypoxemia, and bilateral pulmonary infiltrates.
In the first chapter the authors describe how two different models of multi-causality (intuitively appealing threshold model and abstract sufficient cause model), both of which are commonly used in the description of the etiology of diseases, can be applied to transfusion related acute lung injury (TRALI) and can both be used to describe the same observed relations between multiple risk factors and TRALI.
In the second chapter, a dysfunction of the normal endothelialepithelial barriers and its role in the development of acute lung injury is described.
Two leading pathogenic mechanisms of ALI are increased endothelial permeability and reduced alveolar liquid clearance capacity.
Understanding of the fundamental mechanisms involved in the regulation of endothelial permeability is essential for the development of barrier protective therapeutic strategies.
The following two chapters are focused on novel therapeutic strategies used in the treatment of ALI and more severe form acute respiratory distress syndrome (ARDS).
Appropriate treatment involves protective lung ventilation, optimal fluid management, and pharmacological treatment.
Despite that there are several possibilities of potentially beneficial pharmacotherapy of ALI/ARDS, the results of experimental and clinical studies are often controversial.
The authors review the use of various pharmacological agents (including corticosteroids, neutrophil elastase inhibitors, anticoagulants, pulmonary vasodilators, antioxidants, methylxanthines, exogenous surfactant, gene-therapy, cell therapy, nitric oxide, myorelaxants, beta-agonists) and critically evaluate their effects in animal models and in patients with ALI/ARDS.
Information
Format: Paperback / softback
Pages: 66 pages
Publisher: Nova Science Publishers Inc
Publication Date: 20/11/2014
Category: Respiratory medicine
ISBN: 9781614704263
Free Home Delivery
on all orders
Pick up orders
from local bookshops