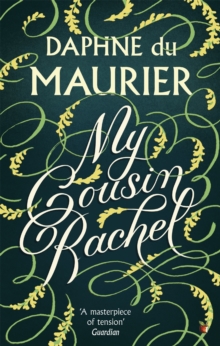 My Cousin Rachel
Paperback
Description
Orphaned at an early age, Philip Ashley is raised by his benevolent cousin, Ambrose.
Resolutely single, Ambrose delights in making Philip his heir, knowing he will treasure his beautiful Cornish estate.
But Philip's world is shattered when Ambrose sets off on a trip to Florence.
There he falls in love and marries - and then dies suddenly in suspicious circumstances.
Before long, the new widow - Philip's cousin Rachel - arrives in England.
Despite himself, Philip is drawn to this beautiful, mysterious woman.
But could she have masterminded Ambrose's death?
Information
Format: Paperback
Pages: 352 pages
Publisher: Little, Brown Book Group
Publication Date: 01/05/2003
ISBN: 9781844080403
Other Formats
Paperback from £6.10
Hardback from £11.79
EPUB from £5.99
Mixed media product from £12.75
Free Home Delivery
on all orders
Pick up orders
from local bookshops
Reviews
Showing 1 - 5 of 7 reviews.
Previous | Next
Review by elliepotten
16/06/2015
This book has been sitting unread on my shelves for years - ever since I saw a theatre adaptation in my early teens - and I have no idea why. Since it was plucked down off the shelves it seems to have taken forever to plough through - and I have no idea why! This is du Maurier at her best: a gloomy house filled with the bitter secrets of an enigmatic woman; the briny scent of the Cornish sea air; a tormented man seeking love... Oh, wait, does this sound familiar?Perhaps that's one of the reasons it took me so long to read it - although it's beautifully written and completely brilliant, it is basically a not-quite-as-good version of <i>Rebecca</i>. Where <i>Rebecca</i> was impossible to put down, sent chills down the reader's spine and was deeply rooted on the Cornish coast, <i>My Cousin Rachel</i> takes longer to work up to its denouement, invites more questioning and pondering from the steady reader, and spreads its wings to encompass a good dose of Italian influence.It is narrated, not by an innocent damsel, but by young Philip Ashley, who inherits a sizeable estate when his beloved cousin Ambrose dies during an extended stay in Italy. In his feverish letters to Philip prior to his death, he implicates his new wife - Philip's cousin Rachel - in his illness. So when Rachel arrives in England to visit the estate and her young cousin, Philip expects a black widow and is completely unprepared for how he feels as he gets to know this beautiful, exotic woman. But all may not be as it seems, and Philip is determined to find out the truth once and for all before he becomes a victim in turn.As always, du Maurier excels at making the reader question their assumptions every step of the way with her spectacular use of the unreliable narrator. Who is the predator, and who the prey? Is Philip's mind twisting events out of shape, or are his perceptions going to turn out to be correct? What really happened in Italy, and who can we trust to be telling the truth - or are Rachel and Philip both too enmeshed in the situation to think and speak honestly?There is also a wealth of very pointed social observation about national stereotypes and the role of women. Philip, living before the delights of cheap Ryanair flights to Europe, frequently seems to believe that his cousin and her advisor Rainaldi may be scheming, or insane, or extravagant, simply because they are Italian. With the exception of the kindly servants who attend to him when he visits Italy, there is no room for manoeuvre in Philip's assumptions that Italians are, by their very nature, not only more sensual and hypnotic than the English, but also far more lax in morals of every kind. The role of women is also important. One of the central themes might be said to be property: the whole novel revolves around Philip's inheritance of the estate. Throughout the book there are very few occasions when Rachel is referred to as anything but 'my cousin Rachel'; she has become an extension of the property Ambrose has transferred to his young ward. She is tied down and held hostage by the men in her life. With Ambrose's new will left unsigned in the cloud of doubt that surrounded his death, she is left with nothing but Philip's charity. Although a hugely independent character, she can never truly be independent while she must have the permission and goodwill of the men in control for everything she does. This is really an incredibly complex novel that, for me, is a cross between <i>Rebecca</i> - which I adored - and <i>Madame Bovary</i>, which I didn't like nearly as much in itself, but which was a really fascinating read in terms of its exposure of contemporary social conventions. I alternated between feeling deeply for Rachel's predicament and wondering whether Philip might be right in his fear of her. The beautiful crystal-clear writing drew me deep into the pages, and even though I remembered the ending from my theatre visit (thus destroying much of the suspense) I was still swept faster and faster towards the final pages with that familiar du Maurier thrill racing up my spine. How on earth did I manage to make such a wonderful book last such a darn long time?!
Review by thebooky
16/06/2015
This novel pales in comparison to Rebecca. If you can get beyond that, it is well written and suspenseful and stands on its own. The final chapters made the the short interludes where it was a little slow worthwhile.
Review by AdonisGuilfoyle
16/06/2015
It would be impossible not to compare this novel with 'Rebecca', considering the similarities of the eponymous characters and what happens to them, but I'm not sure I can say that 'My Cousin Rachel' is in any way inferior. The unnamed narrator and the descriptions of Manderley in 'Rebecca' make that book my favourite out of the two, but both novels are well crafted and suspenseful. Du Maurier has a definite talent for writing unrealiable, or prejudiced, narrators, whose paranoia both repels and influences the reader's perspective.The narrator here has a name, Philip Ashley, but he is also an orphan, raised in eccentric indulgence by his cousin Ambrose. Spoiled and immature for his age, Philip is just as insular as the second Mrs de Winter, and lives only for his guardian and their estate in Cornwall, which he will inherit on Ambrose's death. His sheltered existence is disrupted, however, when Ambrose goes abroad for the winter, to Florence, and meets and marries a distant relation, 'my cousin' Rachel. Philip's imagination is wracked with fears about this interloper, but his anxieties are cruelly realised when Ambrose dies suddenly abroad, after claiming in a scrawled and urgent letter than Rachel, 'his torment', has 'done for him'. Has Rachel killed her husband of one year for his estate, or is the cause of Ambrose's death a hereditary brain disease? Philip's suspicions of his cousin are dispelled when she visits Cornwall and charms everyone with her wit and warmth. Like Rebecca, Rachel is attractive and popular but with a dark secret, which only Philip is aware of. He struggles with his infatuation for her, playing directly into her plans in a bid to win her for himself, but is forced to face the truth - or his understanding of it.Is Rachel a self-made woman who has pulled herself up through poverty and personal unhappiness, or is she more shrewd and calculating than that? Does Philip bring trouble on himself by expecting more than she is willing to give, or does she lead him on for wealth and security? Is Rachel to be admired or hated? Du Maurier lets the reader make up their own mind, although Rachel is 'punished' for usurping a man's position and authority. If the author had written her own prequel for Rebecca, Rachel is how I imagine Du Maurier would have written her most memorable anti-heroine.
Review by AmyLovsBooks
16/06/2015
I will admit it took me a while to finish the book. I can't say it exactly drags but it is explained into in a great detail. It has a plot that will keep you guessing through out. This is one book I assure you where you are not going to guess the ending. Jealousy or greed is one emotion that is very prominent in the book.Overall it is a good book if you have the patience to read it.
Review by KimMR
16/06/2015

To think that just a few short months ago, I was under the impression that Daphne du Maurier only wrote one novel worth reading, the splendid Rebecca. I could not have been more wrong.

My Cousin Rachel is a wonderful read. A psychological thriller, the novel is set in 19th Century Cornwall and in Florence. The narrator, Philip Ashley, falls in love with – or rather, becomes obsessed with - his cousin's widow, Rachel, who may or may not be a murderess. The development and consequences of Philip's obsession are at the heart of the novel.

There is so much to admire about this work. Firstly, there is the beautiful descriptive language in which Maurier evokes the natural beauty of Cornwall and the drama of Florence. Secondly, there is the superb use of a male first person narrator, who reveals things to the reader of which he is himself unaware. Thirdly, there is the fascinating ambiguity of the characters and the narrative. While Rachel's character and actions are open to question and interpretation, so is Philip's reliability as a narrator.

Overall, this is a gem of novel. It is easy to read and hard to put down, a totally engaging page-turner which gives readers plenty to ponder at the end. Contemporary thriller writers could learn a thing or two from Daphne du Maurier. Another enjoyable buddy read with my friend Jemidar.

Also in the Virago Modern Classics series | View all