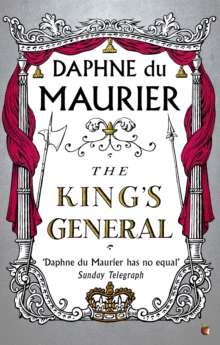 The King's General
Paperback
Description
Inspired by a grisly discovery in the nineteenth century, The King's General was the first of du Maurier's novels to be written at Menabilly, the model for Manderley in Rebecca.Set in the seventeenth century, it tells the story of a country and a family riven by civil war, and features one of fiction's most original heroines.
Honor Harris is only eighteen when she first meets Richard Grenvile, proud, reckless - and utterly captivating.
But following a riding accident, Honor must reconcile herself to a life alone.As Richard rises through the ranks of the army, marries and makes enemies, Honor remains true to him, and finally discovers the secret of Menabilly.
Information
Format: Paperback
Pages: 384 pages
Publisher: Little, Brown Book Group
Publication Date: 06/05/2004
ISBN: 9781844080892
Free Home Delivery
on all orders
Pick up orders
from local bookshops
Reviews
Showing 1 - 3 of 3 reviews.
Review by Kasthu
16/06/2015
Whenever I read a book by Daphne Du Maurier, I always want to go out and buy all of her books currently in print. Her books generally fall into two categories: suspense (like Rebecca or The Scapegoat); or historical fiction, like (Frenchman's Creek or The King's General); or something in between, like The House on the Strand.The King's General is set during the English Civil War. Honor Harris falls in love with Richard Grenvile, but her planned marriage to him falls short when she has a rising accident. Many years later, Richard is the King's General in the West, and Honor is making shift at Menabilly, a house built and owned by the Rashleigh family. Daphne Du Maurier brings a piece of Cornish history to life as Richard and Honor's stormy and often complicated relationship plays out.Honor and Richard's relationship isn't what you might expect. It's passionate, but at no time in the novel do they ever consummate it. Instead, everything is pretty much hidden under the surface, and there's a lot that they don't say about the past and what happened between them. I'm not sure why Honor cut him off completely after her accident, but it adds a lot of suspense to their relationship.The historical parts of the novel are well researched, though there was a point in the middle where the plot suffered in favor of the Cornish rebellions. The novel is told from the Royalist point of view, but the author isn't terribly partial to one side or another. There's also a kind of mystery here, too, involving the house and mysterious visitors in the night and secret hiding spaces. It's vintage Du Maurier, and she does this type of suspense very well in all of her novels.Some really wonderful characters enhance the novel's plot. Honor may be a cripple, but she's not bitter about it, nor is she nostalgic for times gone by. She's straightforward and honest, and she has a habit of listening in on conversations. Her crippled state makes people notice her less, and that's why she's the perfect character to narrate this story. I loved the tension between Honor and her sister-in-law, the grasping and selfish Gartred Grenvile, with whom she's always playing literal and figurative games of Patience. Really, this is a well-written novel, and it's now one of my favorite of Du Maurier's novels. I wish Sourcebooks would reprint her books at a faster rate! Maybe they'll reprint The Glass Blowers soon?
Review by Luli81
16/06/2015
I had had this book on my shelf for quite a long time, bought it in impulse after having read Rebecca three years ago and having fallen in love with Du Maurier's captivating writing style.I didn't seem to find the right moment to plunge into it, even more after the disappointment I had with "The loving spirit", Du Maurier's first novel.Haven't I been losing time by reading far more mediocre books these past years!The King's General is a book which has it all. A haunting castle which reminded me of Manderley quite dearly, a strong and unusual heroine, and a most-of-the-time hated hero. History, love and mystery mix together creating a unique setting for this novel.Honor and Richard, a couple which are never truly together but who remain faithful to each other in their own ways. Honor Harris, the main character, falls in love with Richard, a soldier with dubious reputation, when she is barely eighteen. He is taken with her innocence and the way she looks at life, fair and strong willed in all her actions, Honor takes the best out of Richard.When their life together is about to really start, Honor suffers an accident while horse riding and she is left crippled for the rest of her life, this misfortune making an even much stronger woman of her as she casts Richard away for his own sake, sacrificing her own happiness and getting prepared for a life of solitude, a punishment she is ready to bear, with pride and elegance.What she isn't prepared for is to meet Richard, ten years after the accident, when he has become a key figure in the Civil War fighting for his King, and find her passion for him still alive. And Richard, much corrupted by time and bitterness finds his only calming balm in Honor's sensible reasoning and understanding.Honor becomes then Richard's only and true confidant and plays an important role in the events that take place in Cornwall during the Civil War, taking in all of Richard's flaws with unconditional love and devotion, but always being true to her inner sense of justice. I never thought I could enjoy a book about war and political strategy as much as I did enjoy this one.Expect twists and turns and some lessons during this awesome ride, one you shouldn't miss for the world.Don't wait anymore, go get it and read it on the spot!
Review by LARA335
16/06/2015
Set during the hardships and conflicts of the Civil War. Du Maurier effortlessly portrays the clear-eyed love Honore has for the very faulted King's General.
Also in the Virago Modern Classics series | View all