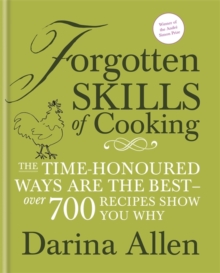 "Forgotten Skills of Cooking: The lost art of creating heavenly home produce, over 300 recipes.
Hardback
Description
In this sizeable hardback, Darina Allen reconnects you with the cooking skills that missed a generation or two.
The book is divided into chapters such as Dairy, Fish, Bread and Preserving, and forgotten processes such as smoking mackerel, curing bacon and making yogurt and butter are explained in the simplest terms.
The delicious recipes show you how to use your home-made produce to its best, and include ideas for using forgotten cuts of meat, baking bread and cakes and even eating food from the wild.
The Vegetables and Herbs chapter is stuffed with growing tips to satisfy even those with the smallest garden plot or window box, and there are plenty of suggestions for using gluts of vegetables.
You'll even discover how to keep a few chickens in the garden.
With over 700 recipes, this is the definitive modern guide to traditional cookery skills.
Information
Format: Hardback
Pages: 400 pages
Publisher: Kyle Books
Publication Date: 01/11/2009
Category: General cookery & recipes
ISBN: 9781856267885
Free Home Delivery
on all orders
Pick up orders
from local bookshops
Reviews
Showing 1 - 2 of 2 reviews.
Review by GrannySmith
16/06/2015
Darina Allen is perhaps not as well known on this side of the pond as Gordon Ramsey (pushing for the use of more fresh, local ingredients in restaurants), Jaime Oliver (great success in moving British schools towards a more healthful school lunch menu, now here in the US working towards the same goal) or Prince Charles (highly involved in the organic/slow food movement in the UK) but she should be.Darina, called by some "The Irish Julia Child", has been running a cooking school in Ireland for some twenty five years. This book is the product of those lessons, imparting kitchen wisdom and food lore that our generation imbibed with our mother's milk along with the oft-repeated "Use it up, wear it out, make it do or do without!" - wisdom that has disappeared under the onslaught of prepackaged, pre-prepared "food."Darina and I are of an age. About the time that she started her cooking school I stood in my kitchen one day baking a cake. A young mother from the neighborhood dropped by as I mixed and asked what I was doing. "Baking a cake," I replied. My neighbor looked all around the kitchen, then asked again "What are you doing?" - and again I replied "Baking a cake." This time the young woman examined every nook and cranny, even looking into the trash bin, and then in great frustration practically shouted at me "Tell me what you are doing!" When I again replied that I was baking a cake this young woman said to me "You can't be baking a cake. There is no box!"Darina's inspiration for her Forgotten Skills classes, which have resulted in this book, was a bit different. She recounts the time she caught a student preparing to dump overbeaten cream into the pig slops instead of simply turning it into butter. In Forgotten Skills of Cooking: The Time-Honored Ways are the Best - Over 700 Recipes Show You Why Darina teaches us how to make numerous dairy products (yogurt, simple cheese & more), corn a beef, smoke fish, raise chickens and much, much more.While not everything translates to North America - they have some wild edibles we do not and vice versa - this is a gorgeous book, well laid out, and just delightful to read. Whether you live on a mountain in the wilds of northern Vermont or a Manhattan apartment, you'll find treasure between these covers. Highly recommended, this is a book that will have a prominent place on my bookshelf for years to come.
Review by jontseng
16/06/2015
All the things your mother (or grandmother or great grandmother) never told you.