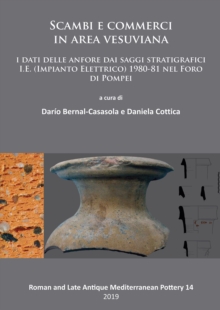 Scambi e commerci in area vesuviana : I dati delle anfore dai saggi stratigrafici I.E. (Impianto Elettrico) 1980-81 nel Foro di Pompei
Paperback / softback
Description
Transport amphorae are one of the best archaeological indicators for evaluating the economy and trade of societies in the ancient world.
Scambi e commerci in area vesuviana: i dati delle anfore dai saggi stratigrafici I.E. (Impianto Elettrico) 1980-81 nel Foro di Pompei, produced by researchers from the University of Cadiz and the Ca' Foscari University of Venice, includes the study of nearly five hundred of these commercial containers, recovered during the pioneering stratigraphic excavations carried out in 1980-1981 at the Forum of Pompeii, called conventionally "Impianto Elettrico". The work represents the first Pompeian monograph dedicated exclusively to the analysis of the amphoric evidence brought to light by archaeological excavation activities in the city buried by the eruption of Vesuvius and analyses in diachronic perspective the main productions in circulation between the VI / V BC and the year 79 AD.
The chapters of the volume offer the reader data relating to archaic amphorae, Greek amphorae and Italic wine amphorae from the Republican era, which draw a commercial panorama of great vitality.
The African amphorae, following Punic traditions, are then reviewed; then follow the Punic-Gaditan garum amphorae, identified for the first time in the Vesuvian area in this study; le Dressel 21-22, containers for the Italic fish-salting trade and, finally, the productions of the late Republican and Julio-Claudian period.
The volume is completed by a series of complementary archaeometric studies carried out on some of the amphorae (paleocontent organic residue analysis and petrographic characterization of the fabrics). All this material, analyzed with an integrated and interdisciplinary approach, allows us to draw multiple conclusions, fundamental to understanding the rich and articulated daily history of Pompeii, its merchants and its inhabitants (the consumers to whom the amphorae were intended) but also useful to better define the Economic History of some of the circum-Mediterranean regions (from Gades to the Aegean) with which Pompeii had strong trade ties in Antiquity, as evidenced by the amphorae presented here.
Information
Format: Paperback / softback
Pages: 360 pages, 79 figures; 71 plates (87 pages in colour)
Publisher: Archaeopress
Publication Date: 20/11/2019
Category: Classical Greek & Roman archaeology
ISBN: 9781789693232
Free Home Delivery
on all orders
Pick up orders
from local bookshops
Also in the Roman and Late Antique Mediterranean Pottery series | View all