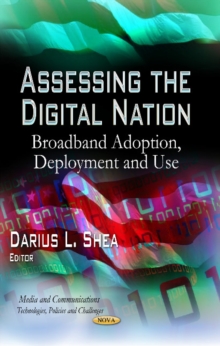 Assessing the Digital Nation : Broadband Adoption, Deployment & Use
Hardback
Description
Researchers and policymakers recognise that availability and use of high-speed Internet services -- a range of connection technologies collectively known as broadband -- are essential to economic growth.
The United States has made considerable progress towards ubiquitous broadband access, with more than 93 percent of the population living in areas offering wired broadband service, and about 98 percent having access to either wired or terrestrial wireless connectivity at speeds of at least 3 Mbps download and 768 Kbps upload.
The Internet has rapidly grown from an academic network into a resource that is now integral to the lives of most Americans.
In 2000, only 4 percent of homes used broadband Internet service.
By 2011, 69 percent were online at speeds greater than dial-up.
By connecting every corner of our country to the digital age, we can help our businesses become more competitive, our students become more informed and our citizens become more engaged.
Additionally, our nation's technology industry leads the way in revolutionising the nature of Internet use through mobile devices.
Smartphones -- driven by American-made operating systems and applications -- now lead the mobile market.
Over one billion smartphone users world-wide carry the global network in their pockets, including the 46 percent of Americans currently using these devices -- now surpassing the 41 percent who use traditional mobile phones.
Mobile broadband is vital to our future. This book examines online activities, broadband adoption, and reasons some do not go online at home which provide key factual underpinnings for the development of sound policies for increasing broadband adoption in the United States.
Information
Format: Hardback
Pages: 137 pages
Publisher: Nova Science Publishers Inc
Publication Date: 01/12/2013
ISBN: 9781629483627