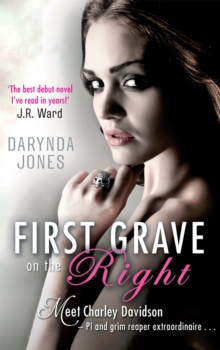 First Grave On The Right : Number 1 in series
Paperback
Description
Private investigator Charlotte Davidson was born with three things: looks; a healthy respect for the male anatomy; and the rather odd job title of grim reaper.
Since the age of five, she has been helping the departed solve the mysteries of their deaths so they can cross.
Thus, when three lawyers from the same law firm are murdered, they come to her to find their killer.
In the meantime, Charley's dealing with a being more powerful - and definitely sexier - than any spectre she's ever come across before.
With the help of a pain-in-the-ass skip tracer, a dead pubescent gangbanger named Angel, and a lifetime supply of sarcasm, Charley sets out to solve the highest profile case of the year and discovers that dodging bullets isn't nearly as dangerous as falling in love.
Information
Format: Paperback
Pages: 320 pages
Publisher: Little, Brown Book Group
Publication Date: 01/11/2011
Category: Fantasy
ISBN: 9780749956042
Free Home Delivery
on all orders
Pick up orders
from local bookshops
Reviews
Showing 1 - 3 of 3 reviews.
Review by wyvernfriend
16/06/2015
Interesting idea. Charlotte (Charley) Davidson sees dead people all the time. She helps them (and often her uncle) find out some details about their deaths, often solving them and then sends them on to the otherworld.This time there are three lawyers involved in a case dead at the same time and as more bodies gather. She's also got a complicated love life.It's an interesting series that shows a lot of potential and I'm looking forward to more. There are times when Charley seems to be trying too hard and there are times when I wasn't sure if she was talking to dead or alive people. Still an interesting concept and I'm looking forward to more.
Review by Helenliz
16/06/2015
 It should have been so much better than it was. <br/>The surmise is a most intriguing one. Charley Davidson is the grim reaper, in that she ushers souls from this dimension to the next. She can see them even though the rest of us can't. If they can't pass because there is something unfinished they need to do, she can talk to them and help then achieve the closure they need to move on. This might be anything from leaving a message for a loved one or avenging their murder. The ability to talk to the dead means that she's been a bit of a help in solving murders for her dad &amp; uncle - both detectives at various times. It's a lot easier to find whodunit if you can ask the deceased!<br/>This story centres on three lawyers from the same firm who are all murdered in the same way the same night. They make themselves know to Charley and she gets involved in solving not only their murders but righting the injustice they were working on - and that got them killed. <br/>It would have been so much better if the writing hadn't been quite so annoying. Struck me as somewhat immature. Charley is supposed to be 27, but the use of slang and the attitude makes her seem a lot younger than that. She's convinced she's the hottest thing on the planet bar the sun itself and makes no bones about it. She even names her breasts - I mean isn't that what you do when you're 13 and puberty makes the whole world seem a bit strange?! Every guy she's ever met seems to be hot - it's all so superficial and repetitive. I don't know about anyone else, but a world populated by hot men isn't the one I live in (more's the pity).<br/>Then there's the love interest. Now he's a far more interesting character, but their liaisons are described in detail that is vivid and them terribly prudish. For example, "Then he was on top of me again, like a blanket of fire, flames licking all over my <i>girl parts</i>, stoking and stirring my body into a frenzy of heat and desire." Which manages to be both extremely sensual and prudish all at once. it's the <i>girl parts</i> that throws a bucket of cold water for me. Almost as if the author is as juvenile as her character. Just jars somehow, and that ruins the flow of the piece. And it happens again and again. It could have been really very erotic, but instead there are these continual jars which mean that instead it manages to have all the allure of a wet fish. <br/>The surmise was so interesting and inventive that I was looking forward to this, but it didn't live up to billing. It would have been so much better if the lead character had been the right side of the line between sassy and down right arrogant, boorish &amp; rude - but she wasn't. It could have been completely marvelous if it didn't sound like it was written by a teenage girl. <br/>There are sequels, but I'm not sure I'll be bothering.
Review by Cynical_Ames
16/06/2015
Charley Davidson a.k.a. Dutch is Stephanie Plum's irritating cousin. She spits out jokes as if her life depends on it. <i>First Grave on the Right</i> is Arabian Nights with wisecracks instead of stories. Only I'd kill her before the end of the first night. Unless you're at a comedy gig jokes are like perfume; to be applied here and there. Too much is overpowering and ruins the effect. Less is most definitely more.<br/><br/>This isn't what I was expecting. As some have all ready mentioned, it's paranormal chick-lit. For me, it was a forgettable throwaway. In theory, I should've enjoyed the concept of a grim reaper helping the dead deal with their unfinished business and serve as their means of crossing over, this part I liked but the rest, I didn't. Charley isn't people-friendly although she has her reasons, she can be sympathetic but also quite offensive.<br/><br/>One section of the book I loved: the part devoid of humour. When Charley remembers her traumatising reaper experience as a 5-year-old and reflects on the negative effect she thinks she has on the lives around her. That was when we finally got to see the real person underneath the defense mechanisms, and I liked her. It's a shame we didn't see more of this person. I did my best to forgive her rudeness and her sometimes mean words but they still bugged me. I wouldn't want to meet her, I certainly wouldn't want to be her friend. On the other hand, with the dead she can be generous and kind. She has confidence as the grim reaper and her ability to help the deceased find peace.<br/><br/>As for the case she was working on -human trafficking of teenage boys, smuggling them <i>outside</i> of the US? I admittedly know very little about this topic but I would assume the opposite was more likely: smuggling them <i>into</i> the US. <br/><br/>The romance aspect of the story grated on my nerves a bit. First we meet Garrett (who could also be mistaken for Ranger, one of Stephanie Plum's love interests) an attractive skip-tracer. He makes a concerted effort to get to know the real Charley and her reaper abilities and attempts to ask her out on a date but she's nothing but argumentative and rude to him. He was pretty damn polite and unassuming around her considering her behaviour. <br/><br/>And then there's Reyes, the not-quite-normal and mysterious ghost Charley has lots of anonymous and incorporeal sex with. Very strange. He doesn't speak for most of the book and when he does, there are very few words. Although what he eventually reveals about himself is interesting I'm still left looking at Garrett and wondering why Charley hasn't considered him boyfriend material. Charley's obsession with Reyes was a little much. I'm also uncertain as to what Reyes' motives are. He's uber-protective of Charley, incapacitating any and all of her attackers (there have been many), but is he just there to prevent her from being used by...others? I don't trust him at all.<br/><br/>With my difficulty in liking the main character I'm not sure I'll be continuing with this series.
Also in the Charley Davidson series | View all