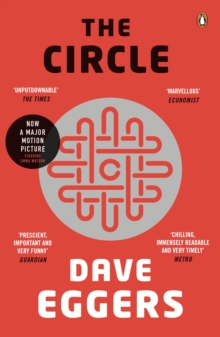 Description
NOW A MAJOR MOTION PICTURE starring Tom Hanks, Emma Watson and John BoyegaA thrilling and compulsively addictive novel about our obsession with the internetWhen Mae is hired to work for the Circle, the world's most powerful internet company, she feels she's been given the opportunity of a lifetime.
Run out of a sprawling California campus, the Circle links users' personal emails, social media, and finances with their universal operating system, resulting in one online identity and a new age of transparency.
Mae can't believe her great fortune to work for them - even as life beyond the campus grows distant, even as a strange encounter with a colleague leaves her shaken, even as her role at the Circle becomes increasingly public ...'Tremendous.
Inventive, big hearted and very funny. Prepare to be addicted' Daily Mail'Prescient, important and enjoyable . . . a deft modern synthesis of Swiftian wit with Orwellian prognostication' Guardian'A gripping and highly unsettling read' Sunday Times
Information
Format: Paperback
Pages: 512 pages
Publisher: Penguin Books Ltd
Publication Date: 26/03/2014
ISBN: 9780241146507
Other Formats
EPUB from £4.99
CD-Audio from £17.95
Paperback from £7.65
Free Home Delivery
on all orders
Pick up orders
from local bookshops
Reviews
Showing 1 - 1 of 1 reviews.
Review by isabelx
16/06/2015
"You think it's just a coincidence that every time some congresswoman or blogger talks about monopoly, they suddenly become ensnared in some terrible sex-porn-witchcraft controversy? For twenty years, the internet was capable of ruining anyone in minutes, but not until your Three Wise Men, or at least one of them, was anyone willing to do it. You're saying this is news to you?"The all-encompassing nature of the Circle's intrusion into its employees' privacy is obviously a satire and not to be taken seriously. No company could really expect their customer service employees to keep up a 98% average as well as keeping up with internal and external social networking (I think Mae had 9 screens on her desk by the end), although if I had taken a customer survey and then been badgered with multiple follow-ups asking why I hadn't given them a satisfaction score of 100% I would definitely have have caved in and raised my score just so that I wouldn't be bothered again. The customers were unbelievably demanding of Mae's time and attention especially after she became a star. with requests from customers to be added to Mae's network and for her to join theirs, immediately followed by further demands and passive-aggressive messages when she didn't immediately follow-up on their requests to look at their websites, recommend their products to her network and give advice on how their children could get jobs at the Circle. The Circle must surely have a policy of only employing extroverts, as no introvert could coped with so much enforced social interaction, so there would have been people going postal or being taken away by the men in white coats on a daily basis. Being a complete introvert myself, I found the constant enforced social interaction and the passive-aggressive insistence on it by Mae's bosses and colleagues very stressful to read about, and the increasing lack of privacy as the book went on was dreadful. If that really happened, I can see a lot of people reacting like Annie and Mae's family, and refusing to talk about anything 'real' at all. It reminded me of "Blind Faith" by Ben Elton, in which one of the characters fakes her social networking with pictures of people who look a bit like her, knowing that everyone is far to busy with their own social profile to look any anyone else's closely. The Circle has an interesting premise, but I didn't find the characters engaging or their relationships with each other realistic. I never really warmed to Mae once she had joined the Circle. At first she seemed to be resisting the embrace of the Circle, but she succumbed all too soon, and ignored the 'tear' inside her mind that should have warned her that she was damaging herself and her relationships with friends and family. I realise that the transparent shark digesting everything it ate within a few seconds was a metaphor for what the Circle was doing, but the idea of sea creatures from deep in the Marianas Trench surviving in unpressurised open-topped tanks in the Circle's aquarium was so stupid that the spell of the book was broken immediately and I was dragged back to reality.
Also in the Penguin Essentials series | View all