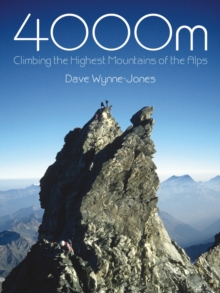 4000M : Climbing the Highest Mountains of the Alps
Paperback / softback
Description
This is theengrossing story of the seasons the author spent climbing 4000m mountains inthe different regions of the Alps.
It is also about the people with whom heclimbed who found time out of their day-to-day routine for this extraordinaryactivity.
He explains the reason for this fascination which resulted in theirspending decades pursuing their climbing objectives.
The words and photos both encapsulate thealpine experience in all its beauty and suffering, pain and exhilaration,danger and humour which is shared with each climbing partner and open to anyonewith the same commitment.
The author believes that climbing all the 4000mmountains is a realistic and achievable objective that will take mountaineersinto much wild and beautiful terrain.
These are not just snow plods: everymountain has a worthwhile route on it and even those with long glacierapproaches can become superb ascents and descents on ski in an alpine spring.
The many photos taken over the years were areminder of details that had escaped notice in the journals kept at the time.These numerous stunning and inspiring photographs tell their own story andenrich the author's account. The book is dedicated to all his climbing partnerswho made the completion of the quest possible.
Information
Format: Paperback / softback
Pages: 240 pages, 120 colour illustrations
Publisher: Whittles Publishing
Publication Date: 07/03/2016
Category: Memoirs
ISBN: 9781849951722