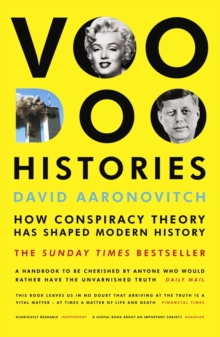 Voodoo Histories : How Conspiracy Theory Has Shaped Modern History
Paperback
Description
Did Neil Armstrong really set foot on the moon?Was the United States government responsible for the 11 September attacks?Should we doubt the accidental nature of Diana's death?Voodoo Histories entertainingly demolishes the absurd and sinister conspiracy theories of the last 100 years.
Aaronovitch reveals not only why people are so ready to believe in these stories but also the dangers of this credulity. *Includes a new chapter investigating the conspiracy theories that question Obama's legitimacy as president *
Information
Format: Paperback
Pages: 400 pages
Publisher: Vintage Publishing
Publication Date: 06/05/2010
Category: General & world history
ISBN: 9780099478966
Free Home Delivery
on all orders
Pick up orders
from local bookshops
Reviews
Showing 1 - 2 of 2 reviews.
Review by TPauSilver
16/06/2015
I felt on reading that this book attempted to do one thing and did another. It felt as though the author intended to write an overarching view of conspiracies, how they're not just silly beliefs but have real consequences, and examine why people believe them. What he actually happened was he often became mired down in debunking the theory and loses track of the overall message. He does manage to draw up an overall idea but the book could have been cut down to make to more concise. Also, I felt a few times that he was getting a little personal about certain conspiracy theorists, exploring a few of their backgrounds to show how the beliefe can come from experience and how people become invested in theories is one thing, the biography of everyone who attened a certain meeting I can't now remember the name of and I never really established the importance of wasn't.
Review by roblong
16/06/2015
Enjoyed this a lot. I was initially a bit wary, his introduction and attempts at defining a 'conspiracy theory' were a little shaky imo. However, he's basically right in what he's driving at. I'm the choir to preach at, admittedly, because I rather hate conspiracy theories - one of my few principles, presumably from being a history graduate, is that I can't stand bad history. Conspiracy theories (without exception in the ones discussed here) are certainly that, almost always politically motivated and painting ones enemies as possessed of incredible powers being used for evil. The effect is to dehumanise the other side, which destroys rational assessment of them and can be catastrophic.Why people actually believe in such things is the nub - he doesn't quite nail it, but I don't think 'it' is quite there to be nailed. For each conspiracy the reasons will vary slightly. The similarities are huge though, as right-wing fantasies about Clinton and left-wing fantasies about George W. Bush in the US reveal. Conspiracies about the other side are always more believable (people who believe in one will find some way to quickly dismiss the other). There are shades of the apocalyptic in the theorists, and always the desire to be the 'one in the know', the exceptional one who sees beneath the reality everyone else is stupid enough to be fooled by. At one point Aaronovich quotes a character from Umberto Eco's Foucault's Pendulum (a brilliant novel), who is conjuring up a conspiracy theory about the Knights Templar because it strikes him as fun. "Tell them what you like and they'll believe it," he says, "as long as it's the exact opposite of what they were taught in school." Quite.