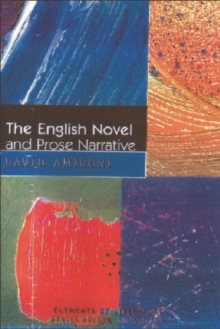 The English Novel and Prose Narrative
Paperback / softback
Description
The English Novel and Prose Narrative provides an astute, wide-ranging and accessible critical introduction to the English novel and short fiction, and explores the novel's relations to narrative forms such as biography and autobiography.
David Amigoni expertly guides readers in methods of narrative analysis and close reading, while stressing the need to place narratives and narrative theories in historical and cultural context.
To this end, he traces critical debates about the origins of the novel, domestic realism and romance, the bildungsroman, journalism and mass culture, the experimental novel, postmodernism and postcolonialism.
Adopting a case-study approach, the author provides theoretically informed readings of Pamela, Tristram Shandy, Emma, Jane Eyre, The Mill on the Floss, Bleak House, The Spoils of Poynton, Mrs Dalloway and Midnight's Children as well as short stories by Thomas Hardy and Katherine Mansfield.
While primarily an introductory guide, the book also offers a distinct approach to the history of novel criticism that will engage readers interested in the genre at all levels. Key Features: * An all-round introduction to the novel in historical, theoretical and critical contexts * Historically and theoretically grounded readings of widely taught novels * Offers ways of approaching biography and autobiography as contributions to working-class writing and women's writing * Traces critical debates that have shaped fictional and non-fictional prose narratives in cultural history
Information
Format: Paperback / softback
Pages: 208 pages
Publisher: Edinburgh University Press
Publication Date: 10/03/2000
ISBN: 9780748611218