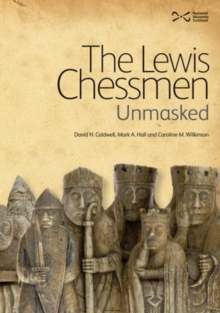 The Lewis Chessmen: Unmasked
Hardback
Description
Chess fans saw a red queen brought to life in Harry Potter and the Philosopher's Stone. She came from what is perhaps the world's most mysterious and imaginatively-crafted chess set -- 73 carved pieces probably dating to the 1200's.
The famous Chess men (and women) comprise the world's oldest complete chess set (or parts of several sets).
The treasure trove was discovered 15 feet deep in the sand in Lewis in Scotland's northern Outer Hebrides in the late 19th century.
Scandinavian outposts were known to be there as early as the 1200's when the pieces were probably crafted.
That chess was played in the Middle Ages with such extraordinary works of art tantalizes the imagination.
Who were these people whose likenesses have been so whimsically and realistically depicted that they come alive for us today?
Who played the game? These kings and queens, bishops with miters on their heads, knights mounted on rather small horses and holding spears and shields, rooks with shields and a wild expression, and pawns in the shape of obelisks -- all so very human.
Some of the pieces contain red stains, suggesting perhaps that the sets had some colorings unlike modern black and white pieces. "This is the first forensic account of modern research into the Chessmen," according to Ancientchess.com.
The "unmasked" in the book's title refers to new controversies about their origin and about who might have owned - and lost - them - and about the trade and state of society where they were crafted.
Information
Format: Hardback
Pages: 80 pages, 30
Publisher: NMSE - Publishing Ltd
Publication Date: 19/05/2010
Category: Medieval European archaeology
ISBN: 9781905267460
Free Home Delivery
on all orders
Pick up orders
from local bookshops