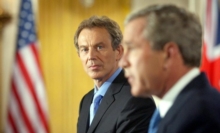 Blair's War
Paperback / softback
Description
Tony Blair and George Bush may have won the war in Iraq, but they are losing the peace at home.
How did Blair come to support the US--led invasion of Iraq?
Why did he risk taking Britain into a conflict which so imperilled his premiership?
Was he justified in doing so? These are just some of the questions which David Coates and Joel Krieger seek to answer in Blair's War -- the most authoritative and complete record of the conflict to date.
Written by two of the most experienced and perceptive observers of British politics and New Labour, the book explains how his stalwart commitment to stand 'shoulder to shoulder' with America after 9/11 trapped Blair in a tragic logic that took the UK to war in Iraq.
It reveals how Blair was bushwhacked into exaggerating the Iraqi threat, seduced away from New Labour's ethical foreign policy, and drawn into Bush's imperial campaign.
Blair's War blows a hole through each of the justifications for war and offers a detailed, original and compelling set of proposals to return the UK to an ethical foreign policy. With an exquisite sense of the unfolding drama and an eye for detail, the authors develop the arguments for and against the war and, with unerring fairness, test each argument against the record of what was known, what was suspected, and what was misrepresented.
The book provides a unique perspective on this latest unsettling turn in the 'special relationship', and is essential reading for voters on both sides of the Atlantic, who must soon determine the political fates of both the President and Prime Minister.
Information
Format: Paperback / softback
Pages: 200 pages
Publisher: Polity Press
Publication Date: 18/03/2004
Category: British & Irish history
ISBN: 9780745633596
Free Home Delivery
on all orders
Pick up orders
from local bookshops