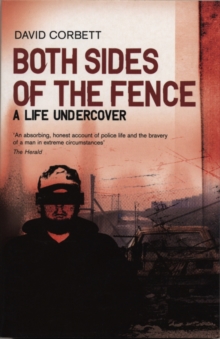 Both Sides of the Fence : A Life Undercover
Paperback
Description
As one of a handful of UK police officers trained in SAS deep-cover surveillance, David Corbett infiltrates the toughest communities living among junkies, prostitutes, murderers and firearm dealers, in order to gather evidence that would lead to dozens of convictions.His rapport with hardened criminals was forged during his youth on the mean streets of Glasgow, where he ran with the gangs, joyriding and stealing.
But when his friends began disappearing into borstals, Corbett decided it was time to take himself in hand and followed his father into the police force.
His ability to mingle with gangsters was soon identified as an asset and, after serving time in the CID - where he was involved in investigating the murder of Arthur Thompson Junior, the son of Glasgow's Godfather - he became an undercover agent with the Crime Squad.
He trained in urban and rural surveillance and invented a fictional past for himself.
Like Donnie Brasco, the legendary US cop who won the trust of the Mafia, Corbett risked his life every day: one false move and his cover would have been blown.
The pinnacle of his career was an operation in the former pit town of Blyth, where there had been 15 drug-related deaths in 12 months.
Leaving his wife and family, he spent five months undercover, wired up, winning the confidence of the dealers, and had to cope with having his life endangered by a corrupt officer.
Corbett's work led to 31 convictions and commendations from the Chief Constable and a Crown Court Judge but, without any form of counselling, the stress took its toll and he was forced into early retirement.
Information
Format: Paperback
Pages: 208 pages
Publisher: Mainstream Publishing
Publication Date: 18/09/2003
Category: True crime
ISBN: 9781840187694
Free Home Delivery
on all orders
Pick up orders
from local bookshops