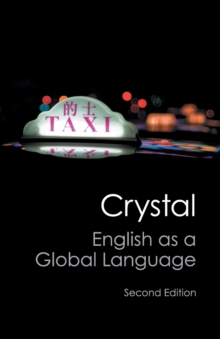 English as a Global Language
Paperback
Description
David Crystal's classic English as a Global Language considers the history, present status and future of the English language, focusing on its role as the leading international language.
English has been deemed the most 'successful' language ever, with 1500 million speakers internationally, presenting a difficult task to those who wish to investigate it in its entirety.
However, Crystal explores the subject in a measured but engaging way, always backing up observations with facts and figures.
Written in a detailed and fascinating manner, this is a book written by an expert both for specialists in the subject and for general readers interested in the English language.
Information
Format: Paperback
Pages: 224 pages, 11 maps 5 tables
Publisher: Cambridge University Press
Publication Date: 29/03/2012
Category: linguistics
ISBN: 9781107611801
Other Formats
Paperback from £15.85
PDF from £9.18
Free Home Delivery
on all orders
Pick up orders
from local bookshops
Reviews
Showing 1 - 1 of 1 reviews.
Review by MeditationesMartini
27/08/2015
David Crystal is basically the thinking person's Bill Bryson (we will leave aside the question of why the thinking person would need a Bill Bryson): he began as a researcher on Randolph Quirk's monumental <i>Comprehensive Grammar of the English Language</i>, and has spun that out into research of his own on, per Wikipedia, "English language learning and teaching, clinical linguistics, forensic linguistics, language death, 'ludic linguistics' (Crystal's neologism for the study of language play), style, English genre, Shakespeare, indexing, and lexicography." He is a major scholar, though one who suffers from a bit of the same loss of seriousness that a Harold Bloom or a Terry Eagleton suffers when they try to balance between the roles of proper public intellectual, popularizer and gadfly.This particular book, weirdly, was initiated at the request of a society in the US advocating for English to be made the sole official national language (there is not one at present). It is not written to order--it is objective and academic, though I think it is a bit in Crystal's nature to celebrate grand narratives, and his treatment of English occasionally seems a bit too enamoured with the epic sweep of its growth from a set of dialects spoken by a bunch of obscure North Sea–huggers, to a somewhat less obscure insular creole, to a major literary and scientific language with its Romance, Latin, and Greek infusions, to an imperial language on which the sun never sets, to a worldwide lingua franca underpinned by international civil society, economic globalization, and American hegemony, to whatever it is becoming now--a fractured new language family? a truly universal auxiliary language? a flash-in-the-pan to be supplanted by Chinese?That celebratory feeling is a bit repugnant at times, but it's a minor thing. No, I gave this book its middling-to-low rating because it's largely boring and obvious. We get a recap of the history of English alongside one of previous international languages (mostly European--French and Latin--as if there wasn't a tonne also to say about, oh, Arabic, Chinese, Sanskrit); it is Wikipedia-level, leavened with frequent portentous reminders of the unprecendented significance of what English is becoming. We get some chapters of human arithmetic, giving us a figure of somewhat less than a billion English speakers of any kind (as of 1997, and of course very roughly) and classifying them by nation in terms of their historical relationship with English following Kachru's three concentric circles model (inner--UK, US, Canada, Australia, etc.; outer--India, Nigeria, Uganda, Trinidad, etc.; expanding--Germany, Malta, Japan, basically the whole world). For anyone who works in related fields, this is old news, and the Kachruvian model is so obviously correct that it's a bit uninspiring--a simple, atheoretical description of the state of English use, it makes much of little. We get the drilldown into how it became "the indispensable language," roughly 1) the Industrial Revolution, 2) the British Empire, 3) America; from realm to realm to realm, we are unsurprised to learn that the specific advantages of English--the huge number of newspapers published in it in the 19th century in relation to all other languages, its dominance of the scientific and technical literature, its dominance of movies ("Hollywood" is starting to sound like an anachronistic term for "movies" as a whole, isn't it?) and pop music, its use in international institutions and business, all proceed in a straightforward way from these underlying material conditions. If we really want to answer the question "Why English?" our topic of investigation isn't really linguistic at all, it's "Why did the Industrial Revolution start in England?" (See Eric Hobsbawm for that one; it is also, of course, the way to answer the larger question "Why is the world the way it is?") Instead we get factoids and the same process traced over and over again in a wide wide wide lens treatment about an inch deep.There is a chapter on language policy in the US, fulfilling Crystal's original mandate--it suffers because Crystal tries to play policymaker but his suggestions are vague to the point of vapidity, and also because he seems to hop back and forth at will or in confusion between the case where our alternatives are official English or no preferential treatment of any language, and that where alternatives are no preferential treatment and extensive federal support for the use of some number of other languages in American public life. And also because all the arguments for official English are stupid, and he tries to give them a fair hearing.Then there is speculation on the future advent and diversification of English, which has some good material on, for example, features of and attitudes toward some non-native Englishes currently undergoing standardization (and in some places, nativization). That is interesting stuff but treated unsystematically here. And throughout, we get little creative snippets or bagatelles: the idea that if English adopts a syllable-timed rhythm (plausible because the large bulk of EFL speakers, who now account for more than half of English speakers, have first languages that are syllable timed), it will sound a bit like we're all rapping all the time--I never made that connection. But on the whole this book seems a bit thin and obvious, though I should be clear I don't blame Crystal--he was the guy to write on this topic if it were to be written about--but at this kind of global survey level, as opposed to one that zeroes in on specific phenomena, the topic itself is a bit thin and obvious.
Also in the Canto Classics series | View all