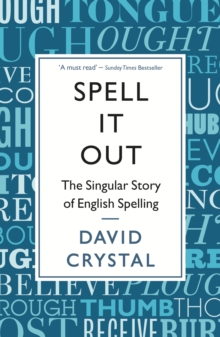 Spell it Out : The Singular Story of English Spelling
Paperback
Description
Why is there an 'h' in ghost? William Caxton, inventor of the printing press and his Flemish employees are to blame: without a dictionary or style guide to hand in fifteenth century Bruges, the typesetters simply spelled it the way it sounded to their foreign ears, and it stuck.
Seventy-five per cent of English spelling is regular but twenty-five per cent is complicated, and in Spell It Out our foremost linguistics expert David Crystal extends a helping hand to the confused and curious alike.
He unearths the stories behind the rogue words that confound us, and explains why these peculiarities entered the mainstream, in an epic journey taking in sixth century monks, French and Latin upstarts, the Industrial Revolution and the internet.
By learning the history and the principles, Crystal shows how the spellings that break all the rules become easier to get right.
Free Home Delivery
on all orders
Pick up orders
from local bookshops
Reviews
Showing 1 - 1 of 1 reviews.
Review by Lukerik
16/06/2015
Don't be put off by Crystal's prissy introduction. I think he's just a bit annoyed because he's a serious academic and he's written something that's fun to read. There is a 'teaching appendix' but the bulk of the book is the history of English seen through the medium of its spelling. That may sound a bit dry, but really it's not. It's written for the layman with a minimum of technical language. I'm relatively well informed for a layman and I learnt loads. I liked the parts about Old and Middle English the most.