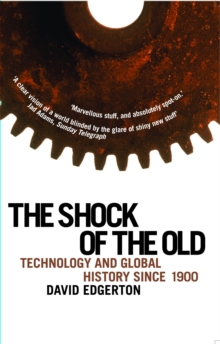 The Shock Of The Old : Technology and Global History since 1900
Paperback / softback
Description
Standard histories of technology give tired accounts of the usual inventions, inventors, and dates, framing technology as the inevitable march of progress.
They split history into ages - electrification, motorisation, and computerisation - and rarely ask whether anyone bothered to use these inventions at the time.
Shock of the Old is not one of those histories. Instead of asking when a technology came to be, David Edgerton asks when the average person started using it.
He reveals that decades- and centuries-old technologies are often critical parts of modern achievements, and that old technologies can remain dominant long after they were supposedly superseded.
Letters exist alongside emails and outlasted telegrams; we still make physical books and magazines despite the rise of the Internet - a belated rise considering that the technologies that made it possible was invented in 1965.
Shock of the Old forces us to reassess the significance of old inventions such as corrugated iron and sewing machines and rethink the relative importance we place on the invention of something new, its application, and its widespread adoption.
It challenges the idea that we live in an era of ever increasing change and, interweaving political, economic and cultural history, teaches us to think critically about technology.
Other Formats
Paperback / softback from £8.69
EPUB from £6.26
PDF from £11.03
Free Home Delivery
on all orders
Pick up orders
from local bookshops