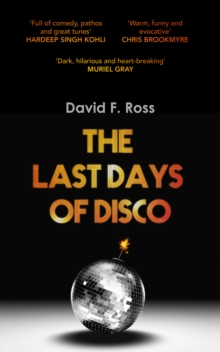 Last Days of Disco
Paperback
Description
Early in the decade that taste forgot, Fat Franny Duncan is on top of the world.
He is the undoubted King of the Ayrshire Mobile Disco scene, controlling and ruling the competition with an iron fist.
From birthdays to barn dances, Franny is the man to call.
He has even played 'My Boy Lollipop' at a funeral and got away with it.
But the future is uncertain. A new partnership is coming and is threatening to destroy the big man's Empire ...Bobby Cassidy and Joey Miller have been best mates since primary school.
Joey is an idealist; Bobby just wants to get laid and avoid following his brother Gary to the Falklands.
A partnership in their new mobile disco venture seems like the best way for Bobby to do both at the same time.
With compensation from an accident at work, Bobby's dad Harry invests in the fledgling business.
His marriage to Ethel is coming apart at the seams and the disco has given him something to focus on.
Tragic news from the other side of the world brings all three strands together in a way that no one could have predicted. The Last Days of Disco is a eulogy to the beauty and power of the 45rpm vinyl record and the small but significant part it played in a small town Ayrshire community in 1982.
Witty, energetic and entirely authentic, it's also heartbreakingly honest, weaving tragedy together with comedy with uncanny and unsettling elegance.
A simply stunning debut.
Information
Format: Paperback
Pages: 304 pages
Publisher: Orenda Books
Publication Date: 15/03/2015
ISBN: 9781910633021
Free Home Delivery
on all orders
Pick up orders
from local bookshops
Reviews
Showing 1 - 1 of 1 reviews.
Review by atticusfinch1048
27/08/2015
The Last Days of Disco – The Decade Fashion Forgot But Music Loved'When Heatwave gets goin', ther'll be nae middle-o-the-road pish getting played. That's got tae be rule number one.''Right. Got it.' Said Bobby. 'Nae Christy Burgh. Nae Goombay Dance Band. Nae Flocks o' Fuckin' Seagulls.'The Last Days of Disco set in 1982 with the background of the Falklands War, Margaret Thatcher, 3 million and Scotland at the World Cup, unemployed Bobby Cassidy and best friend Joey Miller are about to leave school in Kilmarnock and launch themselves on to an unsuspecting world. With ideas in their heads they decide they will launch themselves in to the world of the mobile disco, playing various gigs and competing against Fat Franny and his gang to bring music to the masses.Waking up after a lost weekend of drink and more drink for his 18th and gaining a tattoo Bobby Cassidy wakes up in bed top n tailed with his visiting brother Gary. Without any idea what has passed for the weekend that has gone he is planning for the future, and comes up with the mobile disco plan to be named after The Jam's The Heatwave, they want to be at the cutting edge and also represent The Mods in disco form.From the outset what makes this book so funny is the lack of planning and life events that gets in the way of them having a great time and their responses to it, and you can just hear them saying it too even back then. Even though they do end up out of pocket, and one of their friends electrocutes and knocks himself out on the microphone at the first gig mere side shows to the laughs in the book.At 18 Bobby is not very experienced with the ladies he is very much Like A Virgin and the description of Booby and his girl in the shed when he is on the vinegar strokes made me laugh out loud as we all have a story similar.'Bobby jerked as a blast of cold smoke came between his legs from the box. Lizzie's arse cheeks were slapping against the box, flicking the switch of the Heatwave Disco dry-ice canister machine on and off, blowing smoke literally – up Bobby's arsehole; not a totally unpleasant experience.'When you read it all in context you cannot help but laugh and there are laughs throughout the book mixed with the heady tunes of the 1980s that had me walking 500 miles to go back in time. Either Bobby or Joey wants to be a Smalltown Boy but they love doing the disco and watching people Dancing In the Dark. We also discover that Gary has left home and is no Goody Two Shoes but has joined the Army and is in the Scots Guards which with the Falkland Conflict kicking off theirs is no House of Fun as they wait for news. When the two army padres come calling they know the worst has happened at Tumbledown in the Falklands, and the final breakup of Bobby's family is about to take place.We discover that Kilmarnock is not a Town Called Malice even if Fat Freddy attempts to run them out of town and spoils a gig at the Tory Club with the Milk Snatcher staring down at them. What they do discover is that The Telephone Always Rings when you are popular and their fame goes before them as they become the undisputed kings of the disco.At the same time as being given laugh out loud moments we also get great moments of pathos and some really dark moments. This is a warm, evocative story which took me back to tunes I had forgotten and as such it took me longer to read as I set up an 80s playlist for background music to the time of Ra Ra skirts big hair and dynasty. This may have struck a chord with me as I was a teen in the 80s but you can never take the music away and I am sorry I have dropped a few tunes from 82 in the review too. In 1982 there were 3 million unemployed, men died in the Falklands and the north and Scotland were irrelevant all we had left was the music and to keep us going we had Come on Eileen as the best selling hit of the year. The Eurovision winner was Nicole with A Little Peace, and Scotland got knocked out of the World Cup.This is an excellent book well worth reading and the music will always bring a smile and a memory of the book and even in Bobby and Joey's experiences we have all been there. Last Days of Disco is the new Trainspotting, brilliant writing and Irvine Welsh you have a new jock on the block and thank you David F. Ross for a fantastic read and music set to go with it.P.S. I am sorry to Karen at Orenda Books (the publisher) and David F Ross for filling your twitter time lines with all the 80s tunes – kidding not really!