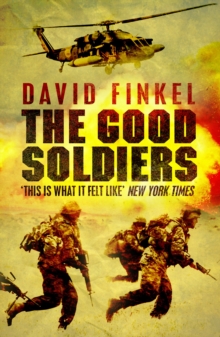 The Good Soldiers
Paperback
Description
In January 2007, the young and optimistic soldiers of the 2-16, the American infantry battalion known as the Rangers, were sent to Iraq as part of the surge.
Their job would be to patrol one of the most dangerous areas of Baghdad.For fifteen months, Pulitzer Prize-winning reporter David Finkel was with them, following them almost every grueling step of the way.
The resulting account of that time, The Good Soldiers, is a searing, shattering portrait of the face of modern war.
In telling the story of these soldiers, both the heroes and the ruined, David Finkel has also written a classic work of war reporting.
Information
Format: Paperback
Pages: 320 pages, Black and white photographs throughout
Publisher: Atlantic Books
Publication Date: 01/03/2011
Category: Middle Eastern history
ISBN: 9781848873278
Free Home Delivery
on all orders
Pick up orders
from local bookshops
Reviews
Showing 1 - 2 of 2 reviews.
Review by mhaley
16/06/2015
When Americans obtain there knowledge of history from books instead of the cable news shows, the world is a better place. This work gives the grim reality of brave soldiers fighting a war. The results of this action ultimately resulted in victory, but you wouldn't know it from the time frame in which this investigatory work was written. Grim reality.
Review by DeltaQueen50
27/01/2016
The Good Soldiers by Pulitzer Prize journalist David Finkel was a difficult read. He describes the horror of the American war experience in Iraq with an unflinching eye and it was unbearably sad to read of incidents that left young Americans dead or changed for life. Set in 2007, it is also unbearably sad to know that these kind of things are still happening in the Middle East today as the death and suffering continues.This author brings both the war and the men who fought it to life on these pages as he describes their day-to-day activities, both in combat and in general duties. This is not a book about the political manoeuvrings of Washington, instead it follows one battalion throughout its 15 month deployment and allows the reader to feel a part of their experience. David Finkel spent 8 months with the 2-16 in Iraq and in telling of this units' operations, he clearly shows the what the cost was:"in the final minutes of a month in which four soldiers died, one lost a hand, one lost an arm, one lost an eye, one was shot in the head, one was shot in the throat, eight were injured by shrapnel, eighty IEDs or EFPs detonated on passing convoys, soldiers were targeted by gunfire or rocket-propelled grenades fifty-two times …"And he humanizes this cost.Yes, a difficult read, but presented in a moving and unforgettable manner which will make The Good Soldiers a hard book to forget.