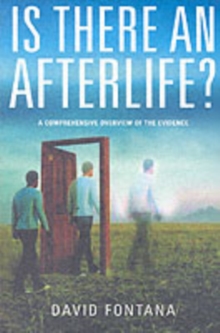 Is There an Afterlife? : A Comprehensive Overview of the Evidence
Paperback
Description
The question whether or not we survive physical death has occupied the minds of men and women since the dawn of recorded history.
The spiritual traditions of both West and East have taught that death is not the end, but modern science generally dismisses such teachings.
The fruit of a lifetime's research and experience by a world expert in the field, Is There An Afterlife? presents the most complete survey to date of the evidence, both historical and contemporary, for survival of physical death.
It includes mediumship and channelling, spontaneous cases, hauntings, apparitions, near death experiences, out of the body experiences, Electronic Voice Phenomenon, Instrumental Transcommunication and recent laboratory work.
It accepts that evidence is often disputed but makes the claim that much of the phenomena is inexplicable without some form of survival.
It looks at the question of what survives-personality, memory, emotions and body image-in particular exploring the question of consciousness as primary to and not dependent on matter in the light of recent brain research and quantum physics. It discusses the possible nature of the afterlife, the common threads in Western and Eastern traditions, the common features of "many levels," group souls and reincarnation.
As well a providing the broadest overview of the question, giving due weight to the claims both of science and religion, Is There An Afterlife? brings it into personal perspective. It asks how we should live in this life as if death is not the end, and suggests how we should change our behaviour accordingly.
Information
Format: Paperback
Pages: 360 pages
Publisher: John Hunt Publishing
Publication Date: 03/03/2005
Category: Thought & practice
ISBN: 9781903816905
Free Home Delivery
on all orders
Pick up orders
from local bookshops
Reviews
Showing 1 - 1 of 1 reviews.
Review by DubiousDisciple
16/06/2015
"There is no doubt in my mind," says Fontana, "that the question of whether or not we live after death is by far the most important that faces us." Surely we are more than merely biological accidents with nothing more to motivate us beyond the struggle to remain alive. Luckily, the back cover promises, "After reading [this book] and assessing the evidence, there can no longer be any doubt that there is life after death."As far as I'm aware, this is the most exhaustive study ever on the afterlife. 496 large-size, small-print pages. The sheer volume of evidence would appear overwhelming, except that the majority of the book is about mediumship. I was a bit disappointed in this focus, but Fontana lists "Professor of Transpersonal Psychology," "Vice President of the Society for Psychical Research," and "Fellow of the British Psychological Society" among his credentials, so his primary focus should come as no surprise.There are other topics, including apparitions, hauntings, near-death experiences, out-of-body experiences, and studies of reincarnation, but they receive comparatively little attention. One chapter summarizes the findings of what the afterlife must be like; whether we will sleep, enjoy sex, become wiser, retain our individuality, interests, memories … if you're curious, Fontana concludes that in the afterlife you're going to be pretty much the same person as you were in this life. Overall, I found the book unconvincing, but I'll try to include some reviews shortly of other books on the topic that I found more fascinating.