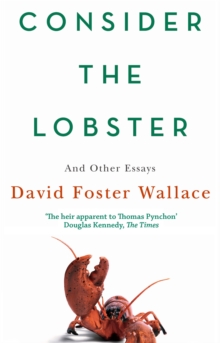 Consider the Lobster : Essays and Arguments
Paperback
Description
Do lobsters feel pain? Did Franz Kafka have a sick sense of humour? What is John Updike's deal anyway? And who won the Adult Video News' Female Performer of the Year Award the same year Gwyneth Paltrow won her Oscar?
David Foster Wallace answers these questions and more in his new book of hilarious non-fiction.
For this collection, David Foster Wallace immerses himself in the three-ring circus that is the presidential race in order to document one of the most vicious campaigns in recent history.
Later he strolls from booth to booth at a lobster festival in Maine and risks life and limb to get to the bottom of the lobster question.
Then he wheedles his way into an L.A. radio studio, armed with tubs of chicken, to get the behind-the-scenes view of a conservative talkshow featuring a host with an unnatural penchant for clothing that only looks good on the radio.
In what is sure to be a much-talked-about exploration of distinctly modern subjects, one of the sharpest minds of our time delves into some of life's most delicious topics.
Information
Format: Paperback
Pages: 352 pages
Publisher: Little, Brown Book Group
Publication Date: 21/06/2007
Category: Social & cultural anthropology
ISBN: 9780349119526
Free Home Delivery
on all orders
Pick up orders
from local bookshops
Reviews
Showing 1 - 3 of 3 reviews.
Review by comixminx
16/06/2015
A substantial, chewy read with more footnotes than you could shake a stick at. Seriously, don't read this if you don't like footnotes cos dude there are f'notes on f'notes.<br/><br/>As a collection of essays, of course the level of interest in the various items will vary. The first essay in particular - <i>Big Red Son</i> - was really not that hot a hit. It hotted up a bit with the next chapter, where Wallace gave John Updike a well-deserved good kicking; but the one I really liked a lot was the chapter on <i>Authority and American Usage</i> - lexicography, language geekery, and both footnotes and endnotes for 60 pages! Yeah ok maybe that won't float your boat but I loved it. Particularly cos it was even about a book published by us, heh heh... All that and the Private Language Argument too! Cor. I nearly expired with geeky happiness.<br/><br/>Pausing only to give an honourable mention to the chapter on John McCain's entry into the 2000 presidential race - interesting partly because of subsequent events of course - the other chapter that stuck in my mine was the last one, about radio talk-show host John Ziegler. It was full of good analysis of just why noxious right-wing talk show radio has become so popular and such big business; and it also outlined quite what a horrible-sounding so-and-so the talk show host in question actually is. (I looked him up afterwards and his most recent activity has involved being a fervent Sarah Palin supporter, which about says it all.) All that and a mad layout that is a sort of instead-of-footnoting, gone more bonkers than you'd think likely or feasible. But it's fun!
Review by MarthaJeanne
16/06/2015
The title essay is the only one even vaguely worth reading, and it is about three stars. In its favour is also that there are few footnotes, and the main text mostly stays at a readable size. I have not read the essays that have been printed in a wild variety of font sizes out of respect for my eyes. I should have passed on the others out of respect for my brain.
Review by alexrichman
27/08/2015
I don't know much about Kafka or Dostoyevsky. I found the American Usage book review stodgy in parts. But this is undeniably a phenomenal set of essays, with DFW showing he wasn't just one of the best authors of his generation, but an equally excellent journalist as well. His pieces on McCain, talk radio and the titular lobster are all masterpieces.