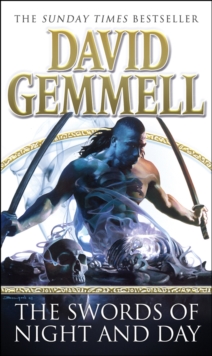 The Swords Of Night And Day : An awesome tale of swords and sorcery, heroes and villains from the master of heroic fantasy
Paperback / softback
Description
A bloody, brutal and breath-taking epic heroic fantasy by the Sunday Times bestselling author David Gemmell, perfect for fans of Joe Abercrombie, Duncan M.
Hamilton and Conn Iggulden. "Gemmell is past the point of needing recommending - he is an institution that becomes more valuable with each new novel." -- ENIGMA"Gemmell's premium-grade heroic fantasies stress the positive values of individualism...stirring, emotionally charged, superbly written." -- TIME OUT"A classic of its genre" -- ***** Reader review"Another masterpiece [-] couldn't put it down.
Loved the characters and the twists and turns of the plot.Not many do it better than the master storyteller." -- ***** Reader review"A very good read, with several surprising twists.
This book will keep you guessing until the end." -- ***** Reader review************************************************Even in death, Skilgannon the Damned's name lives on.
Now, as an ancient evil threatens to flood the Drenai heartlands in a tide of blood, he returns... A thousand years after they fell in battle, two heroes - Druss and Skilgannon - are revered throughout the war-torn lands of the Drenai, where men and women live in abject fear of the dark sorceress known as the Eternal... But what if one such hero could be called back from the void?
An ancient prophecy foretold that Skilgannon would return in his people's darkest hour.
To most, this was a foolish hope. But not so to Landis Kan. Having found Skilgannon's ancient tomb, he gathers up the bones and peforms the mystic ritual. But the reborn hero is an enigma: a young man whose warrior skills are blunted and whose memories are fragmented.
He is marooned in a world as strange to him as a dream, remote from all he knew and loved. Or nearly all - for Landis Kan has also experimented upon other bone fragments found in the hero's tomb resulting in a surly giant who possesses astounding strength but no memories.
To Kan, he is a dangerous failure. To Skilgannon, this giant represents their last hope. As ageless evil threatens to drown the Drenai lands in blood, two legendary heroes will once again lead the way to freedom.
Information
Format:Paperback / softback
Pages:640 pages
Publisher:Transworld Publishers Ltd
Publication Date:01/04/2005
Category:
ISBN:9780552146784