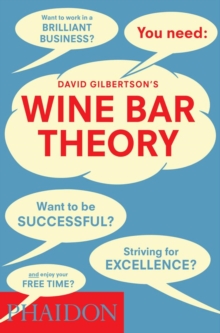 Description
Wine Bar Theory is an attitude and an approach to work.
It's not about cutting corners, it's about wanting the very best and not settling for less.
It's a theory that can pave your road to success. Author David Gilbertson built a failing company into a successful multi-billion dollar business without getting up at 4:00am or working until midnight.
He knows how to work better, and get brilliant results.
Now in just 28 simple rules, he spells out the secret of his success; everyday accessible strategies for creative professionals, managers, students, entrepreneurs, and anyone who wants to get ahead in life.
As one rule follows another, he builds a compelling narrative on paving the way to success (and getting that all-important time to go to a wine bar with friends, or just time to think). Covering workplace issues and business strategy, Wine Bar Theory shows you things you can do more easily, and things you don't need to do at all.
It's about being effective and not just busy. This affordable, pocket-sized book is a business book like no other.
Its creative illustrations are by Bill Butcher, whose work is seen in the pages of The Wall Street Journal, Fortune and the Economist.
Free Home Delivery
on all orders
Pick up orders
from local bookshops