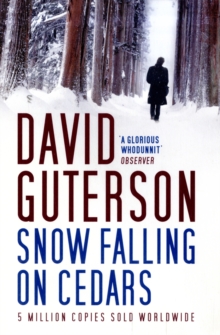 Snow Falling on Cedars
Paperback
Description
In 1954 a fisherman is found dead in the nets of his boat, and a local Japanese-American man is charged with his murder.
In the course of his trial, it becomes clear that what is at stake is more than one man's guilt.
For on San Piedro, memories grow as thickly as cedar trees and the fields of ripe strawberries - memories of a charmed love affair between a white boy and a Japanese girl; memories of land desired, paid for, and lost.
Above all, San Piedro is haunted by the memory of what happened to its Japanese residents during World War II, when an entire community was sent into exile while its neighbours watched.
Information
Format: Paperback
Pages: 432 pages
Publisher: Bloomsbury Publishing PLC
Publication Date: 01/06/2009
ISBN: 9781408801406
Other Formats
Paperback from £6.15
EPUB from £7.19
eAudiobook MP3 from £5.59
Free Home Delivery
on all orders
Pick up orders
from local bookshops
Reviews
Showing 1 - 1 of 1 reviews.
Review by chinquapin
16/06/2015
There is a compelling mystery story within the pages of this book, but it is hard to find amidst the pages and pages of interminable, uninteresting, detail-oriented prose. The novel is mostly about the trial of a Japanese-American fisherman who has been charged with the murder of another fisherman off the shores of San Piedro Island in Washington State. However, a major portion of the novel is devoted to flashback stories of various players involved in the courtroom drama. The story of subtle racism, how World War II and the bombing of Pearl Harbor effected the island, and the internment of the Japanese residents was effective, but it just got bogged down with the weight of unnecessary verbage. I am not interested in reading about what all the different residents of town bought from the hardware store on the morning of the storm, or how many cars (and of what make and a description of their location and position) the local newspaperman saw on his way out to his mother's house. I really, really didn't need to know about people's bathroom experiences or the defense lawyer's prostrate problems. I think the story could have been greatly improved with some judicious editing. Additionally the novel is very bleak. The setting is austere and bleak, the characters are bleak in their emotions and outlook, and even the plot is bleak. It is not that I need or want books to be pervasively happy, but I found the dismal miasma of hopelessness to somewhat wearying.