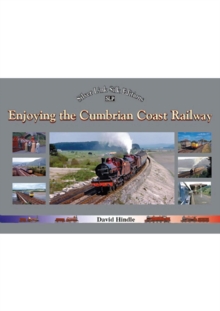 Enjoying the Cumbrian Coast Railway
Hardback
Description
Join David Hindle for a fascinating trip along one of the most scenic railway routes in the British Isles.
This is a book for those with an apetite for discovery and those that enjoy the Lake District and its wildlife and scenery.
As the tile suggests there is much to interest those with an interest in Railways too!
Section One1) A concise history of the Furness Railway2) 'Hindle Wakes' to the growth of leisure and tourism3) A Journey along the Furness Railway from Carnforth to Whitehaven4) Photo gallery of steam and diesel locomotives on the Furness Railway5) Memories of the Furness Railway and travel with the 'ten bob ticket'Section Two Linear and circular great bird watching walks From Stations along the Cumbrian coast:'Silverdale change here for Leighton Moss RSPB Reserve' and Gaitbarrow 'Arnside with connections to Arnside Knott' 'Roose Station for Foulney and Roa Islands and railway heritage' 'Green Road alight here for a coastal walk to Millom' 'Millom Station for Hodbarrow RSPB Reserve"Silecroft for the ascent of Black Combe' 'Ravenglass change here for the Ravenglass and Eskdale Steam Railway.'Walking and cycling from the Ratty 'St Bees change for St Bee's Head RSPB Reserve'Appendix 1 - Bus connections for more walks in northern LakelandOsprey walk at Bassenthwaite I walk the line with a 'single ticket Keswick to Threlkeld please' Keswick, Borrowdale and the circuit of Buttermere
Also by David Hindle