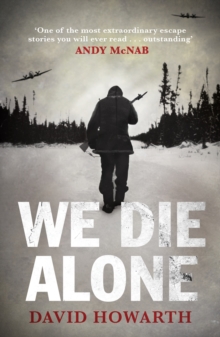 Description
In March 1943 a team of expatriate Norwegian commandos sailed from the most northerly part of Britain for Nazi-occupied Norway.
Their mission was to organise and support the Norwegian resistance.
They were betrayed, and only one man survived the ambush by the Nazis.Crippled by frostbite, snow-blind and hunted by the Nazis, Jan Baalstrud managed to find a tiny arctic village.
There - delirious, near death - he found villagers willing to risk their own lives to save him.
David Howarth narrates his incredible escape in this gripping tale of courage and the resilience of the human spirit.
Information
Format: Paperback
Pages: 256 pages, 1x16pp B&W photos
Publisher: Canongate Books Ltd
Publication Date: 05/08/2010
Category: True war & combat stories
ISBN: 9781847678454
Other Formats
EPUB from £5.99
eAudiobook MP3 from £11.72
Paperback from £8.69
Free Home Delivery
on all orders
Pick up orders
from local bookshops
Reviews
Showing 1 - 3 of 3 reviews.
Review by Veeralpadhiar
16/06/2015
One of the best escape stories of World War-II, period. I couldn't suspend my disbelief at the resilience shown by Jan Baalsrud in each and every adversity. If this book was a work of fiction, no reader would have accepted that a guy could go through such torments and survive. But as they say, truth is often stranger than fiction.<br/><br/>And as it happens, this is an amazing true story of survival in which the guy not merely beats but scoffs-off all the worse hardships imaginable in the Arctic tundra of Norway.<br/><br/>But the real heroes in this event were the people of Norway who helped Jan to survive while on the run. These people took enormous risks as they were sure to be executed by the Germans alongwith their families if they ever found out about their role in Jan's escape.<br/><br/>Jan survived a shooting, an avalanche, blizzards, gangrene, isolation, starvation, anything one can think of, really! If a cat has nine lives, Jan Baalsrud had ninety. <br/><br/> <br/><br/>
Review by edwardsgt
16/06/2015
An incredible story of survival against all odds. A Norwegian returns to Northern Norway on the "Shetland bus" with Norwegian companions to attack a German airfield which commands the Arctic convoy routes. Unfortunately the group is betrayed to the Germans almost immediately and only one escapes and must make a long and arduous trek across frozen mountains to Sweden and freedom. This is his amazing story pieced together afterwards with those involved at every stage of his heroic flight.
Review by labfs39
23/09/2015
I read this excellent memoir on a transcontinental flight and couldn't put it down. The night I arrived at my destination, I stayed up to the wee hours finishing it. The author David Howarth ran a spy ring during WWII called the Shetland Bus, which ran spies from the Shetland Islands into occupied Norway. This book is derived from the story of one of those spies. Jan Baalstrud was a Norwegian, who had escaped the Germans and received special forces training in England. He and a few others were sent to the Norwegian coast by fishing vessel; their mission was to infiltrate inland, hook up with native resistance groups, and support them as much as possible. Unfortunately the group is betrayed shortly after their arrival and only Jan makes it off the beach alive. The story of his escape through the Norwegian Arctic is spellbinding. He faces hunger, unbearable cold, isolation, avalanches, snow blindness, frostbite, you name it. But thanks to the bravery and generosity of some individuals he meets along the way, he survives. His story is so incredible that the author takes pains to assure the reader of the verification process he went through in checking Jan's story. Sometimes truth is stranger than fiction. Highly recommended.