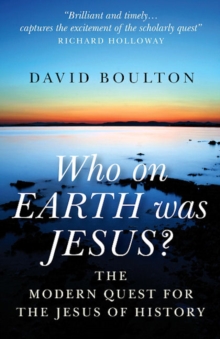 Who on Earth Was Jesus? : The Modern Quest for the Jesus of History
Paperback
Description
This is the first fully comprehensive account of the debate between modern scholars on the Jesus of history before he became the Christ of faith.
David Boulton surveys all the major schools of historical Jesus scholarship in turn: the liberal Jesus Seminar, the conservative 'New Questers' and the radical sceptics, covering over 30 experts.
He lays out the sources, biblical, 'heretical' and secular, taking in the most recent discoveries and explaining where historians agree and disagree in recovering a credible portrait of the man behind 'the greatest story ever told'.
Information
Format: Paperback
Pages: 488 pages
Publisher: John Hunt Publishing
Publication Date: 20/03/2008
Category: The historical Jesus
ISBN: 9781846940187
Free Home Delivery
on all orders
Pick up orders
from local bookshops
Reviews
Showing 1 - 2 of 2 reviews.
Review by VickiMac
16/06/2015
I always wondered if Jesus was a more 'regular guy' before he became the divine Christ of faith? One man has taken on this challenge and written a one-volume, engrossing account on this often-controversial subject that has been the center of debates between contemporary scholars for years. If my research is correct this is the first one volume text since Albert Schweitzer's a century ago. In this book, the author David Boulton cuts through the mystery and hype and goes straight to the meat of the issues: the result, a book that is the most comprehensive study to date. Everyone has a different opinion on this subject. This is evidenced by the countless books that have been written – everything from Christians writing about the Christ of faith to books by atheists proposing Jesus is a myth, or those proposing a married or gay Jesus. What really makes this book different is the fact that Boluton's informative and well-researched approach incorporates the actual experiences gained by serious scholars throughout history, delving into theories and conclusions of all the main competing schools of historical Jesus scholarship. I read this book because of the enthusiastic suggestion by a fellow member of my book club. I am so glad I took the leap and read this volume, try it for yourself.
Review by biunicorn
16/06/2015
Who on Earth was Jesus ?/The Modern Quest For the Jesus of Historyby David Boulton This 419 page book was nothing short of astounding and went a long way to help me get a bigger and much deeper picture of Jesus the man, from many different sources. This exciting offering is one that was so jam packed with info that I found I could only read a little and then ponder a lot, and then read some more. Even though there was an immense amount of material the format was so concise and well planned I didn't get lost at all. I also found the "Jesus Seminar" fascinating. I just loved how there was so much available, it was kind of like a huge 1000 piece jigsaw puzzle that was so masterfully assembled that it told a story that got me to thinking about who our Savior really was, and what kind of life He did lead, and how many lives He touched and still inspires today. I would recommend this exceptional labor of love to anyone with questions concerning the "Messiah" and who are open minded enough to process some amazing answers. Thank you so much David for putting things into a clearer perspective.. Love & Light, Riki Frahmann