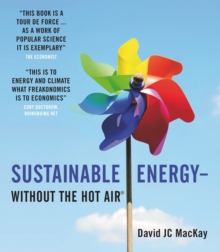 Sustainable Energy - Without the Hot Air
Paperback
Description
Addressing the sustainable energy crisis in an objective manner, this enlightening book analyzes the relevant numbers and organizes a plan for change on both a personal level and an international scale--for Europe, the United States, and the world.
In case study format, this informative reference answers questions surrounding nuclear energy, the potential of sustainable fossil fuels, and the possibilities of sharing renewable power with foreign countries.
While underlining the difficulty of minimizing consumption, the tone remains positive as it debunks misinformation and clearly explains the calculations of expenditure per person to encourage people to make individual changes that will benefit the world at large.
If you've thrown your hands up in despair thinking no solution is possible, then read this book - it's an honest, realistic, and humorous discussion of all our energy options.
Information
Format: Paperback
Pages: 384 pages, 1000 approx; colour throughout
Publisher: UIT Cambridge
Publication Date: 01/12/2008
Category: Sustainability
ISBN: 9780954452933
Free Home Delivery
on all orders
Pick up orders
from local bookshops
Reviews
Showing 1 - 2 of 2 reviews.
Review by Stbalbach
16/06/2015
Excellent tutorial/resource for learning about alternative energy, specifically what our options are. There is a considerable amount of mis/dis-information out there, just about every statistic is tainted in one way or another with an agenda. MacKay brings order to the chaos and looks at solar, wind, nuclear etc.. and how much is really needed to account for our current and future energy needs. He assumes that, no matter where you personally stand with global warming, in the big picture fossil fuels will run out and/or they are a national security problem, so no matter what, an energy transition away from fossil fuel is needed. Thus he spends only a brief chapter talking about global warming, the book is politics free, simply looking at energy units. This is a neutral, objective, math-based account. Bill Gates recommended it on his blog is where I first learned about it. MacKay doesn't offer best solutions, just options. It seems clear though that nuclear is going to have to play a major role because the engineering required to power soley from other sources alone would be such a huge undertaking it is doubtful we will have the political will or time to do so. Gates himself is investing in a new type of nuclear reactor, he has seen the future.
Review by FredB
16/06/2015
This book describes in great detail the energy choices we face as we try to wean ourselves off of fossil fuels. The choices are going to be difficult, such as Texas-sized arrays of solar cells. The book uses a lot of graphs, equations and facts and figures. In other words, it is not watered down for the mass market. The choices are described for Britain - the author is British - but apply equally to the US.
Also by David J. C. MacKay