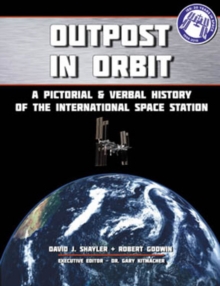 Outpost in Orbit : A Pictorial & Verbal History of the Space Station
Paperback / softback
Description
The story of the space station encompasses the efforts of thousands of people going back many generations and hailing from many different countries.
The concept of a space station seems to have sprung forth fully-formed in the mind of Edward Everett Hale in the summer of 1869.
In his short story "The Brick Moon" Hale concluded that an orbiting manned space station could provide a totally new reference point which ships captains could use for navigation.
Hale went on to become the chaplain in the United States' Senate and in 2019 we will be celebrating the sesquicentennial of his story.
We will also be celebrating the 20th anniversary of the extraordinary International Space Station.
The International Space Station represents what can happen when people from different backgrounds and different cultures come together with parallel dreams and aspirations.
The ISS exists because of Russian mathematicians, American doctors, German scientists, Canadian engineers, British physicists, Japanese roboticists, Italian mechanics swap any of the occupations with any of the nationalities (or almost any other) and it still holds true.
The list goes on and on. This truly astonishing feat of human ingenuity would not exist without the contributions and insights of people from almost every walk of life going all the way back to Isaac Newton.
In this anniversary tribute the reader is taken through a pictorial history of the space station which is unprecedented in its scope.
Beginning with Hale it takes the reader through over 100 space stations designed by American, Russians, German and Brits before taking you aboard the magnificent ISS using hundreds of pictures, many never published before.
This 320 page full colour book was created with the assistance of the National Aeronautics and Space Administration which provided unprecedented access to engineers, managers, astronauts and historians.
Interviews were conducted with retirees and pioneers as well as the principals from NASA, the Russian Space Agency, the European Space Agency, the Canadian Space Agency and the Japanese Space Agency to create a unique insight into the trials and triumphs of working on the ISS.
Featuring over 800 colour images running all the way from Tsiolkovsky's designs in the early 20th century to the completed International Space Station, some of the people featured in the book include Robert Gilruth, James Webb, Wernher von Braun, Hermann Oberth, JD Bernal, Krafft Ehricke, Dan Goldin, Victor Blagov, Alan Thirkettle, Chiaki Mukai, Arthur C Clarke, Hermann Koelle, Bonnie Dunbar, Frank Williams, Vladimir Chelomei, Sergei Krikalev, William Shepard, Lynn Cline, Chris Hadfield, Takao Doi, Jean Olivier, Robert Crippen, Dmitri Kondratyev, Dave Williams, Robert Thirsk, Michael Foale.
James Beggs, Owen Garriot, Kent Rominger, Henry Hartsfield, Bob Cabana, Peggy Whitson, Kathy Sullivan, Konstantin Feoktistov, and many more.
Information
Format: Paperback / softback
Pages: 320 pages, colour photos
Publisher: Collector's Guide Publishing
Publication Date: 01/10/2018
Category: Astronomy, space & time
ISBN: 9781989044032