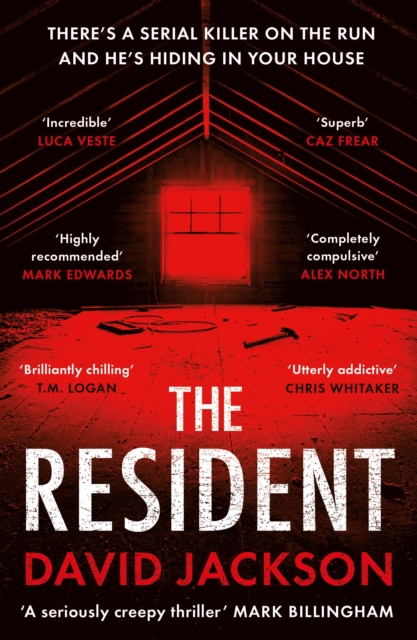 The Resident
Paperback / softback
Description
'a SERIOUSLY creepy thriller. I may never venture into the loft again' - MARK BILLINGHAM'Disturbing, blackly funny and completely compulsive' - ALEX NORTH'A brilliantly chilling story with tension on every page' - T.M.
LOGAN________________________________________THERE'S A SERIAL KILLER ON THE RUNAND HE'S HIDING IN YOUR HOUSEThomas Brogan is a serial killer.
With a trail of bodies in his wake and the police hot on his heels, it seems like Thomas has nowhere left to hide.
That is until he breaks into an abandoned house at the end of a terrace on a quiet street. And when he climbs up into the loft, he realises that he can drop down into all the other houses through the shared attic space. That's when the real fun begins. Because the one thing that Thomas enjoys even more than killing is playing games with his victims - the lonely old woman, the bickering couple, the tempting young newlyweds. And his new neighbours have more than enough dark secrets to make this game his best one yet... Do you fear The Resident? Soon you'll be dying to meet him. ________________________________________ 'Brilliant.
So twisted, clever and funny. Highly recommended' - MARK EDWARDS 'Clever, addictive and brazenly terrifying.
I slept with the lights on after reading this one' - CHRIS WHITAKER 'Dark and disturbing yet so absorbing.
Jackson knows how to reel you in' - MEL SHERRATT 'A brilliantly creepy, edge-of-your-seat, tense thriller' - WILL CARVER 'Superb.
Creepy, pacy, and oh so witty' - CAZ FREAR 'A chilling psycho thriller with a very novel twist' - PAUL FINCH 'Utterly compelling and impossible to put down.
Incredible' - LUCA VESTE 'Twisted as hell. I loved it!' - MANDASUE HELLER
Information
Format:Paperback / softback
Pages:368 pages
Publisher:Profile Books Ltd
Publication Date:04/02/2021
Category:
ISBN:9781788164368
Other Formats
Paperback / softback from £11.89
Information
Format:Paperback / softback
Pages:368 pages
Publisher:Profile Books Ltd
Publication Date:04/02/2021
Category:
ISBN:9781788164368