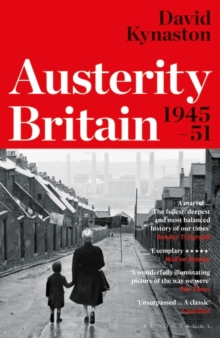 Austerity Britain, 1945-1951
Paperback
Description
For the first time, the Sunday Times bestseller Austerity Britain is available in one complete paperback volume.
Coursing through Austerity Britain is an astonishing variety of voices - vivid, unselfconscious, and unaware of what the future holds.
A Chingford housewife endures the tribulations of rationing; a retired schoolteacher observes during a royal visit how well-fed the Queen looks; a pernickety civil servant in Bristol is oblivious to anyone's troubles but his own.
An array of working-class witnesses describe how life in post-war Britain is, with little regard for liberal niceties or the feelings of their 'betters'.
Many of these voices will stay with the reader in future volumes, jostling alongside well-known figures like John Arlott (here making his first radio broadcast, still in police uniform), Glenda Jackson (taking the 11+) and Doris Lessing, newly arrived from Africa, struck by the levelling poverty of postwar Britain.
David Kynaston weaves a sophisticated narrative of how the victorious 1945 Labour government shaped the political, economic and social landscape for the next three decades.Deeply researched, often amusing and always intensely entertaining and readable, the first volume of David Kynaston's ambitious history offers an entirely fresh perspective on Britain during those six momentous years.
Information
Format: Paperback
Pages: 704 pages, B&W Inserts
Publisher: Bloomsbury Publishing PLC
Publication Date: 06/10/2008
Category: British & Irish history
ISBN: 9780747599234
Free Home Delivery
on all orders
Pick up orders
from local bookshops
Reviews
Showing 1 - 2 of 2 reviews.
Review by john257hopper
16/06/2015
This is a very rich, multi-layered account of life in Britain in the immediate post-war years, covering the years of the reforming Attlee Government, starting from VE day and ending in spring of 1951 just after the death of Ernest Bevin. It covers all aspects: political, economic, social, cultural, sporting, etc. There are many quotes from interviews taking place as part of the wonderful Mass Observation programme, as well as a lot of quotes from other sources, all of which cumulatively show the rich textures of life, the frustrations with austerity and deprivation even after years of peace, mixed with, for many, a real feeling that a marvellous new social direction had been undertaken, with the creation of the NHS and the welfare state and a feeling that mass unemployment had been banished forever. It was, in retrospect certainly, an era of ideological certainty and great hope for a better future, though the very granular picture shown in this book demonstrates that, as so often, hindsight oversimplifies the situation and gives to a whole era a plain gloss that masks the contradictions and complexities that always lie beneath. This is the first book of a projected series of six volumes covering the period 1945-79, the period during which the post-war consensus in favour of the welfare state more or less held firm. It promises to be a fascinating ride through this crucial period of modern history. 5/5
Review by etxgardener
16/06/2015
An absolutely brilliant social/political history of Britain in the first five years after World War II. David Kynaston covers everything from the political skirmishes within the Labor & Tory parties, to who were the outstanding sports figures of the day. In-between he draws a vivid picture of just how hard life was for the average Britain when, instead of being able to enjoy their victory in the war, they were faced with continuing shortages, rationing and sub-standard housing.This is the first book in a series that is planned to take Britain through the Thatcher years and I, for one, am looking forward to reading his subsequent books.
Also in the Tales of a New Jerusalem series