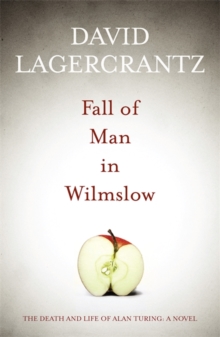 Fall of Man in Wilmslow
Hardback
Description
June 8, 1954. Alan Turing, the visionary mathematician, is found dead at his home in sleepy Wilmslow, dispatched by a poisoned apple.
Taking the case, Detective Constable Leonard Corell quickly learns Turing is a convicted homosexual.
Confident it's a suicide, he is nonetheless confounded by official secrecy over Turing's war record.
What is more, Turing's sexuality appears to be causing alarm among the intelligence services - could he have been blackmailed by Soviet spies?
Stumbling across evidence of Turing's genius, and sensing an escape from a narrow life, Corell soon becomes captivated by Turing's brilliant and revolutionary work, and begins to dig deeper.
But in the paranoid, febrile atmosphere of the Cold War, loose cannons cannot be tolerated.
As his innocent curiosity fast takes him far out of his depth, Corell realises he has much to learn about the dangers of forbidden knowledge.
Information
Format: Hardback
Pages: 368 pages
Publisher: Quercus Publishing
Publication Date: 01/05/2015
ISBN: 9780857059895
Other Formats
Paperback from £7.85
EPUB from £5.99
Free Home Delivery
on all orders
Pick up orders
from local bookshops
Reviews
Showing 1 - 1 of 1 reviews.
Review by cathyskye
27/01/2016
Anyone who picks up Fall of Man in Wilmslow believing it to have the lightning pace and other qualities befitting a thriller is in for a shock. I've seen snails move faster than the pace of this book, and although it satisfies a bit here and there, it certainly doesn't in most areas.There are biographies of Alan Turing that will tell you more about this fascinating and cruelly treated man than Lagercrantz's novel. Instead it's more of an exploration of the character of Leonard Corell, a young, dissatisfied man who feels as though he's never lived up to his childhood dreams and potential. During the course of the book, Corell will learn just as much about himself as he will about Turing.As he begins to investigate, his beliefs are colored by witch hunters who firmly believe all homosexuals are evil Communist spies; however, his opinions change the more he learns about the dead man.It was a fight to keep my interest in this book. There are just too many deadly dull pages of math, theory, and philosophy-- and I will be the first to admit that those subjects work better for me as personal cures for insomnia. So yes, I skimmed. The book only truly came to life when Corell spoke to people who actually knew Turing, but that didn't happen often enough.As an exploration of a young man's character, Fall of Man in Wilmslow is a very modest success. On almost every other score, it came up lacking.