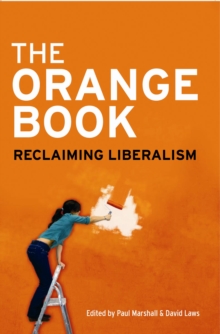 Orange Book : Reclaiming Liberalism
Paperback / softback
Description
Leading Liberal Democrats re-examine traditional Liberal ideas and come up with fresh - and surprising - ideas for the LibDem revival.
In this stimulating collection, the next generation of Liberal Democrat leaders, including MPs and MEPs David Laws, Edward Davey, Vince Cable, Steve Webb, Chris Huhne, Nick Clegg and Mark Oaten, proposes a vigorous future for the party and its policies. Building on traditional Liberal values and principles, they bring new and often provocative thinking to every area of social policy.
Topics include the rejection of 'nanny state' liberalism, a fairer tax system and promotion of social justice, the need to encourage and support stable and secure families, a tougher prisons regime and stronger local government - as well as proposals for global governance, healthcare choice and pension reform, better incentives for environmental protection, and a balanced approach to EU reform and integration.
Up-to-the-minute, original, and persuasively argued, the thinking in this book demonstrates the Liberal Democrats' vitality and social commitment, and gives a valuable insight into how the party will move in the future.
With a foreword by Charles Kennedy, The Orange Book is published in association with the Liberal Democrats to coincide with the 2004 party conference.
Information
Format: Paperback / softback
Pages: 320 pages
Publisher: Profile Books Ltd
Publication Date: 02/09/2004
ISBN: 9781861977977
Free Home Delivery
on all orders
Pick up orders
from local bookshops