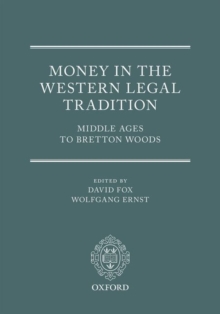 Money in the Western Legal Tradition : Middle Ages to Bretton Woods
Hardback
Description
Monetary law is essential to the functioning of private transactions and international dealings by the state: nearly every legal transaction has a monetary aspect.
Money in the Western Legal Tradition presents the first comprehensive analysis of Western monetary law, covering the civil law and Anglo-American common law legal systems from the High Middle Ages up to the middle of the 20th century.
Weaving a detailed tapestry of the changing concepts of moneyand private transactions throughout the ages, the contributors investigate the special contribution made by legal scholars and practitioners to our understanding of money and the laws that govern it.
Divided in five parts, the book begins with the coin currency of the Middle Ages, moving through the invention of nominalism in the early modern period to cashless payment and the rise of the banking system and paper money, then charting the progression to fiat money in the modern era.
Each part commences with an overview of the monetary environment for the historical period written by an economic historian or numismatist.
These are followed by chapters describing the legal doctrines of eachperiod in civil and common law.
Each section contains examples of contemporary litigation or statute law which engages with the distinctive issues affecting the monetary law of the period.
This interdisciplinary approach reveals the distinctive conception of money prevalent in each period, which eitherfacilitated or hampered the implementation of economic policy and the operation of private transactions.
Information
Format: Hardback
Pages: 920 pages
Publisher: Oxford University Press
Publication Date: 29/10/2015
Category: Economic history
ISBN: 9780198704744