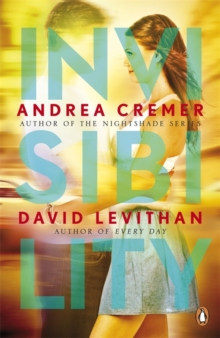 Description
Stephen is used to invisibility. He was born that way. Invisible. Cursed.Elizabeth sometimes wishes for invisibility. When you're invisible, no one can hurt you. So when her mother decides to move the family to New York City, Elizabeth is thrilled.
It's easy to blend in there.Then Stephen and Elizabeth meet.
To Stephen's amazement, she can see him. And to Elizabeth's amazement, she wants him to be able to see her - all of her.
But as the two become closer, an invisible world gets in their way - a world of grudges and misfortunes, spells and curses. And once they're thrust into this world, Elizabeth and Stephen must decide how deep they're going to go - because the answer could mean the difference between love and death.From the critically acclaimed and bestselling authors David Levithan - who wrote Every Day and co-wrote Will Grayson, Will Grayson with John Green, and Nick & Norah's Infinite Playlist with Rachel Cohn, as well as many other novels - and Andrea Cremer - who wrote the bestselling Nightshade series - comes a remarkable story about the unseen elements of attraction, the mortal risks of making yourself known, and the invisible desires that live within us all.David Levithan and Andrea Cremer met each other in Washington, DC, even though that's not where they live. Andrea was pretty certain she wasn't invisible, but David confirmed that fact by introducing her to some other writers, who were all able to see her.Before writing with Andrea, David had never written a novel with a one-word title.
His novels include Every Day, Will Grayson, Will Grayson (with John Green) and Nick & Norah's Infinite Playlist (with Rachel Cohn).
You can visit David at www.davidlevithan.com and follow his lover's dictionary on Twitter @loversdiction.
He lives just outside New York City.Andrea's novels include Nightshade, Wolfsbane, Bloodrose, Rift and Rise.
You can visit her at www.andreacremer.com and follow her on Twitter @andreacremer.
She lives in New York City, quite visibly.
Information
Format: Paperback
Pages: 368 pages
Publisher: Penguin Books Ltd
Publication Date: 07/05/2013
ISBN: 9780141348872
Free Home Delivery
on all orders
Pick up orders
from local bookshops
Reviews
Showing 1 - 2 of 2 reviews.
Review by tim_halpin
16/06/2015
What a peculiar book! Ever wonder what would happen if a character from an urbane, quick-witted teenage novel (like, say, Nick and Norah's Infinite Playlist, or Dash and Ely's Book of Dares) wandered into a fantasy world of cursecasters and spellseekers? Well, this is it. And, unfortunately, it doesn't really work. Neither of these genres are particularly realistic (Nick and Norah? It's a great tale, and there's truth in it, but not the literal kind of truth), and both require a certain kind of protagonist. Crossing over kind of exposes the myth, it deconstructs the genre, which is all very interesting, but doesn't really make for a great read. The characters seem to push my credulity more than the scenario. Having said that, I don't mean this is a lame book. There were some really good moments. And I don't expect all books to fit neatly into genre rules. It's just that, when you want to break out of those rules, you've got to do it with a spark of genius, and I just don't think that was there.
Review by wyvernfriend
16/06/2015
This one pulled me in and kept me reading, I enjoyed the characters in it, even the incidental ones, they were a great set of people, the sequel bait ending was interesting. There was often a lack of detail, of drawing people, but overall it's a good read for me. I would like to see a sequel.Elizabeth has moved from Minnesota to New York after her younger brother was badly beaten for being gay. As she's bringing some things into the new apartment she spies a boy, little does she know that he's invisible to everyone but her, a curse his grandfather put on his mother. Through the story they learn to love each other and work on unravelling what his grandfather has done. During it they will find a world of magic and magic within.I liked it. Maybe not the insta-love but I liked the characters and what they were trying to do.