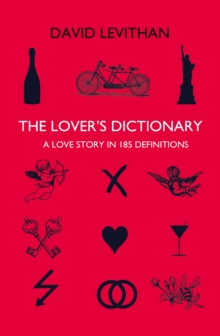 The Lover's Dictionary : A Love Story in 185 Definitions
Paperback
Description
How does one talk about love?We are all beginners when it comes to love, from those tentative first dates to learning how to live with, or without, someone.
But how does one describe love? How does one chart its delights and pleasures, its depths and desolations?
Do we even have the right words to describe something that can be both utterly mundane and completely transcendent, pulling us out of our everyday lives and making us feel a part of something greater than ourselves?
David Levithan's The Lover's Dictionary starts where we all once started - with the alphabet.Constructing the story of a relationship as a dictionary, Levithan explores the intimacies and workings of love through his nameless narrator, to paint a moving portrait of love through everyday words.
Cleverly using the confines of language to provide an intimate window into the great events and quotidian trifles of being part of a couple, Levithan gives us an indelible and deeply moving portrait of love in our time.
Information
Format: Paperback
Pages: 244 pages
Publisher: HarperCollins Publishers
Publication Date: 01/02/2012
ISBN: 9780007377992
Free Home Delivery
on all orders
Pick up orders
from local bookshops
Reviews
Showing 1 - 3 of 3 reviews.
Review by bookloverLucy
16/06/2015
A VERY quick read, but that certainly doesn't mean it's not worth it. One of the most realistic books I've ever read, which was surprising given the unusual structure (which by the way, I loved). Not only do you get to learn the definitions of a lot of unusual words (if you can be bothered to look them up like I did), but the little snapshots of this couple's life leaves you with a fuller idea of their personalities and their relationship than most typically structured, hundreds of pages long, novels. It was just real. So relatable, and never in a corny way. I've also been in the habit lately of writing all my favourite quotes or sentences in a book down in a notebook, and this one will surely fill a decent chunk of it. The content is not only interesting, realistic, and relatable, but it's also expressed so well, in such profound ways. It's simply excellent, and I loved it.
Review by charlottejones952
16/06/2015
This is a beautifully short yet poetic read full of mystery, love and heartbreak. It's written in the form of dictionary definitions to words that could, in some way, be related to a relationship, and all of the entries, when read in order, tell the narrative of a couple's relationship. The only other David Levithan writing that I have read was in Will Grayson, Will Grayson, which was co-written with John Green and I found his writing in this book so much more enjoyable.
Review by shanaqui
16/06/2015
I love Levithan's tendency to try experimental, different things. That made this love story a lot fresher than it could have been, given that there's little to grab hold of character-wise, and the story is fairly banal -- and better, it doesn't feel too gimmicky. It feels like the only way to present this story.Still, reading in snatches like this is not something I particularly enjoy, and I'm not very into the ~modern love story~ with the two characters (are they ever specifically gendered?) being fairly typical and the trajectory of the story being infatuation -> disillusionment -> the end.