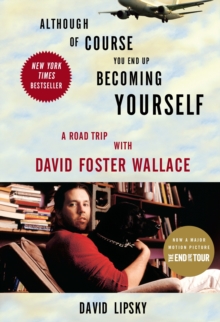 Although Of Course You End Up Becoming Yourself : A Road Trip with David Foster Wallace
Paperback
Information
Format: Paperback
Pages: 320 pages
Publisher: Three Rivers Press
Publication Date: 13/04/2010
Category: Biography: general
ISBN: 9780307592439
Free Home Delivery
on all orders
Pick up orders
from local bookshops
Reviews
Showing 1 - 5 of 9 reviews.
Previous | Next
Review by BillPilgrim
16/06/2015
Extended interview with David Foster Wallace that took place at the end of his book tour for Infinite Jest. The author was sent by Rolling Stone to interview Wallace when he was the bright star of the literary world due to the success of his novel. Lipsky travels with Wallace from his home in Bloomington, Indiana to the last few stops on his tour, over the course of three days or so. No article was ever published, though. The interviews are transcribed in full here, with occasional explanatory interruptions and comments interspersed throughout.(An ironic part is that during the interview, more than once, they talk about how it had been so long since Rolling Stone had published anything about fiction. The author was using that fact to try to get Wallace to open up about his positive feelings about the attention he was getting. Then, the magazine never actually published an article.)Although there is a bit of verbal chess going on at the start, when Wallace is defensive about revealing too much, as time passes they develop a real rapport. They talk about Wallace's personal and professional history, and also talk a lot about the state of the culture, both popular and the higher forms. I found most of the discussions to be fascinating.
Review by jope
16/06/2015
Having not yet read any of DFW's oeuvre, I can only predict this will provide useful insight. As for this book, it's mediocre. Wallace shows a distinct lack eloquence in verbal conversation, whereas his interlocutor Lipsky, I kept wishing would STFU. The roadtrip aspect had a certain charm, kept it more "real" to some extent. An exchange over email or (gag) chat would have made for an interesting comparison.
Review by DRFP
16/06/2015
A book that's good in parts. <I>Although Of Course You End Up Becoming Yourself</I> is best when Wallace talks about his then just published novel, <I>Infinite Jest</i>. Anyone wanting some authorial insight to what the author hoped to achieve with that novel can find plenty of information here. Wallace discuss the why's of <i>Infinite Jest</i>'s non-linear narrative, the endnotes, the cuts, the motivations behind the novel and more. There're also very interesting sections where Wallace talks about the nature of literary fiction, what he likes and dislikes, and where he expected it to go in the future.Those are the goods bits, which are unfortunately balanced out by long sections that much weaker. The personal history that Wallace talks about is interesting but it's presented in a much more coherent manner in Max's biography, <i>Every Love Story Is A Ghost Story</i>. I realise this was published two years before Max's book but the fact remains that, as of 2012, if someone wants a good account of Wallace's life they're better served reading the aforementioned biography rather than this. That brings us on to the point of why this book is probably only for Wallace aficionados - Lipsky is just on bad form throughout. To call him "the author" when all he has done (or someone else has done) is transcribe these tapes seems to me to be quite generous. If Lipsky had taken time to write around all the conversation and be more descriptive of the mood, the locations, Wallace's attitude and behaviour, instead of just inserting random asides that seem designed to make himself appear perceptive, then this could have been a very good piece of non-fiction. As it is there are numerous odd cuts and jumps in conversation that Lipsky does nothing to bridge and there are those annoying bracketed inserts that add little to Wallace's words. All Lipsky <i>does</i> seem to add is a feeble attempt to appear on Wallace's level by being full of quotes from films or books, something Wallace remarks about with faint praise. This did make me wonder whether Lipsky was in awe of Wallace, this author who was being so heralded. Lipsky certainly seems in awe of Wallace now. Another grating aspect of the book is "the author"'s hagiographic attitude towards Wallace. There are constant remarks in the introduction, preface and afterword (why Lipsky felt the need to write these three separate sections I don't know - more indulgence on his part?) is how nice Wallace was, how smart he was, and wasn't he just the best damn author and most sensitive and in-tune person who ever lived. Wallace was not a bad person but I was hopeful that something published two years after his death would be a little less reverential and slightly more probing about the lies Wallace told or the evasive answers he gave. After all, I'm pretty sure that by 2010, following Wallace's suicide, it was more commonly known that he <i>had</i> had electroshock therapy and been in AA - things Wallace strenuously denies and which Lipsky fails to comment on amidst all his useless asides despite having the benefit of hindsight.Would it be too cynical of me to say that this was nothing but a cash-in on Wallace's memory by Lipsky or his agent or publisher? There's good material in this book, though you have to sift through some dross to find it, and with a little more effort on Lipsky's part this could have been something very worthwhile. As it is it's pretty average. As I said earlier, apart from the bits specifically about <i>Infinite Jest</i> you can find all the useful information in this book in D.T. Max's much more readable biography. Max's book isn't perfect either but it's a much better place to start if you want to know about Wallace the person.
Review by HadriantheBlind
16/06/2015
This books reads like one of the best conversations you've ever had. You know what I mean - the nightlong philosophical meandering lovely humorous discourses on life, the universe, and Meaning, and all of those Big Concepts. <br/><br/>I admit freely that I adore DFW and would have been a stuttering mess had I tried to talk to him, like that one guy in the book signing scene, and eavesdropping on this conversation was a distinct pleasure for me. I could sit and listen to him just talk, about his bandannas, his dogs, the greater Purpose behind his Life and Work, and so forth.<br/><br/>I regret bitterly that I will never be able to talk to him, as I do with many authors. But their works and interviews and letters live on, as a surrogate and something better.<br/><br/>Even if the interviewer is a bit abrasive [e.g. interjecting with judgmental comments, fishing for controversy, writing down things that he says won't be recorded, tapping DFW's dogs on the nose(at least he apologized for that in the afterword!)], I still enjoyed this book. Recommended for fans. A road trip to remember.
Review by aliceunderskies
16/06/2015
I am not a huge DFW fan. I adore his essays but have yet to make it through his fiction. I read this mostly in response to my father, who knew him in college and was speaking often of him to me in May. It's a mixed experience of a book--it gives a true and incredible sense of the man behind the towering sentences; it really made me truly mourn Wallace as well as crave more of his work. The long parts of this book that were just DFW talking were brilliant and fascinating and absolutely joyous. The editorial asides and the interruptions of Lipsky matched that joy with a corresponding sense of ick. I can't remember when I last read a book that was so troublingly edited, and was consistently amazed by how little Lipsky seemed to listen to or understand DFW, not just in his at-the-time comments but even over a decade later. I was also equally troubled by my own motives in even reading the book--but that is a separate essay.