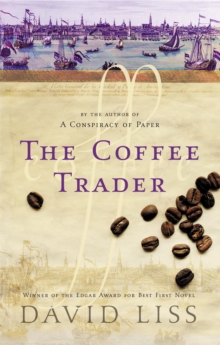 The Coffee Trader
Paperback
Description
Amsterdam in the 1690s - a boom town with Europe's biggest stock exchange and traders who will stop at nothing to get even richer.
Lienzo, a Portugese Jew, stumbles across a new commodity - coffee - which, if he plays his cards right, will make him the richest man in Holland.
But others stand in his way - rival traders who do all in their power to confuse the exchange and scupper his plans, his brother who is jealous of his financial wizardry and even his brother's beautiful wife who both tempts and spurns him in equal measure.
Information
Format: Paperback
Pages: 400 pages
Publisher: Little, Brown Book Group
Publication Date: 06/03/2003
Category: Historical fiction
ISBN: 9780349115009
Free Home Delivery
on all orders
Pick up orders
from local bookshops
Reviews
Showing 1 - 5 of 13 reviews.
Previous | Next
Review by wyvernfriend
16/06/2015
A sometimes interesting, sometimes laboured story of coffee trading in Amsterdam as coffee started to become popular and one man who tries to make a profit amidst intrigue. When there are a lot of people against you, who do you trust?Honestly it passed the time but didn't impress me greatly.
Review by justine
16/06/2015
A really interesting read, but not quite as amazing as A Conspiracy of Paper.
Review by aapjebaapje
16/06/2015
An excellent novel. I found the detail about trading on the Exchange difficult to follow but the storyline was excellent and there were many twists and turns.
Review by Capfox
16/06/2015
Less of a straightforward mystery than his first book, A Conspiracy of Paper, Liss's book about the advent of coffee as a real commodity on the market in Amsterdam, along with a vivid portrayal of Jewish life in the city in the mid-1600s. The result is a tale where not many people come out looking great, but everything comes together nicely and interestingly.The tale here regards Miguel Lienzo, and revolves around his attempt with a Dutch widow, Geertruid Damhuis, to corner the market on coffee and by those means amass a considerable fortune. The problems facing them are considerable, as well - building a market for coffee when it's a real niche product at that point, raising the capital, avoiding the notice of the Ma'amad, the Jewish council that seeks to maintain strict order over the Portuguese Jewish community in Amsterdam.The plot is interesting and intricate, and ended in a place that I found surprising and satisfying, but the characters really carried the day. Miguel's a compelling lead, trying to work his way out of debt, charming but not entirely good, self-serving but wanting to help the community, as well. His business partner Geertruid; his brother, business rival, and creditor Daniel; Ma'amad leader and businessman Solomon Parido; Daniel's wife Hannah; excommunicated usurer Alferonda; all and more feel very real and interesting, as fictional characters go, and I very much enjoyed reading about them.Liss's writing style is still very strong, evoking the time period nicely and giving a real sense of what it was to live there. Similarly, the concepts of calls, puts, and the other trading mechanisms come across cleanly and without too much effort.All of Liss's books that I've read thus far have been very good, and this one won't disappoint you. I'm not sure I'd start with this one if I'm introducing someone to his work - A Conspiracy of Paper is probably better for that - but it's certainly a good place to continue.
Review by Periodista
16/06/2015
I couldn't quite keep up with how the cornering was supposed to work. Who knew that they were doing futures trading way back then? However, this book was a perfect fit for me because of all the social and historical information Liss conveys so skillfully. My cup of tea. Or coffee. The homes of the rich Amsterdam merchants with insignias above their doors indicating how their fortunes were made--even images of "African brutes." The excitement of discovering this magical new drug.How Jews had to live undercover as Christians (Conversos) in Inquisition-era Portugal. Jews' relative freedom in the Netherlands. (England at the time was somewhere in between: you could be Jewish but not flaunt it.) How the Jewish governing body, the Ma'amad, exercised control of Jewish dealings with the Christians. And also its power over Jewish women, requiring them to cover themselves completely (sound familiar?). The semi-hidden nature of Catholics in the Netherlands--their churches behind other facades. Geertruid, Miguel 's business partner, a Christian Dutch woman drinking alcohol in public drinking places.