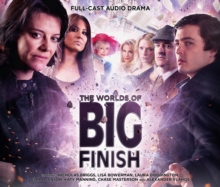 The Worlds of Big Finish
CD-Audio
Description
From the streets of Edwardian London to the corridors of a near-infinite library in the distant future, a single book holds the key to the fate of life on Earth.
Some believe it predicts our future - and the apocalypse - with unnerving accuracy.
Others will stop at nothing to destroy it, and will chase it from one side of the universe to the other; from a country house in the Roaring Twenties to the casinos of Mars, and from 221B Baker street to the terrifying desert world of Sisyhpus IX...1.
The Archive, 2. The Adventure of the Bloomsbury Bomber, 3. The Feast of Magog, 4. Kronos Vad's History of Earth (Vol. 36,379), 5. The Lady from Callisto Rhys, 6. The Phantom Wreck. A six story collection bringing together a number of Big Finish characters and ranges together in a crossover celebration!
Nicholas Briggs recently starred in Big Finish's The Judgement of Sherlock Holmes, and the BBC Drama Award nominated Frankenstein.
Chase Masterson (who plays Vienna Salvatori) is a fan favourite from Star Trek: Deep Space Nine.
Alexander Vlahos plays Dorian Gray in Big Finish's range of stories, and has recently been performing in Macbeth on Broadway. Cast: Lisa Bowerman(Bernice Summerfield), Nicholas Briggs (Sherlock Holmes), Laura Doddington(Zara), Ciara Janson(Abby), Katy Manning(Iris Wildthyme), Chase Masterson (Vienna Salvatori), Alexander Vlahos (Dorian Gray).
Information
Format:CD-Audio
Publisher:Big Finish Productions Ltd
Publication Date:31/05/2015
Category:
ISBN:9781781785737