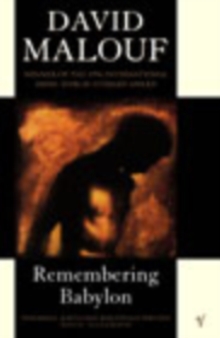 Remembering Babylon
Paperback
Description
A searing and magnificent picture of Australia at the moment of its foundation, with early settlers staking out their small patch of land and terrified by the harsh and alien continent.
Focussing on the hostility between the early British inhabitants and the native Aborigines.
Remembering Bablyon tells the tragic and compelling story of a boy who finds himself caught between the two worlds.
Shot through with humour, and written with the poetic intensity that characterised Malouf's An Imaginary Life, this is a novel of epic scope yet it is simple, compassionate and universal: a classic.
Information
Format: Paperback
Pages: 192 pages
Publisher: Vintage Publishing
Publication Date: 19/05/1994
ISBN: 9780099302421
Other Formats
Paperback from £6.65
EPUB from £3.99
Free Home Delivery
on all orders
Pick up orders
from local bookshops
Reviews
Showing 1 - 5 of 5 reviews.
Review by edwinbcn
16/06/2015
Remembering Babylon by the Australian author David Malouf is a novel set in the colonial history of Australia. The novel opens strongly, as Gemmy, the European "savage" boy from the wilderness emerges and is taken back into civilization, a settlement of colonists. However, the embrace is not warm. In the perception of the colonists, Gemmy develops from a curiosity into a threat. The boy becomes the focus point of the settlers fears of the unknown, and towards the end, after an attempted murder, the reader is left wondering who is more savage.The novel beautifully depicts early colonial life, evoking vivid images of Australia. The language is beautiful. A very enjoyable read.
Review by technodiabla
16/06/2015
I found this book to be enjoyable, interesting, and meaningful-- a trifecta! Malouf's writing style is straightforward and uncomplicated (except for the Scotch-Aussie dialect which was really fun to read.) The story itself is just perfect. Every character is tenderly rendered and so human, so vulnerable. The interactions between the characters, though subtle, reveal so much about interpersonal politics that is timeless and universal. It's so true it maddening. The story of Gemmy is one of xenophobia, language and cultural barriers, Colonial mindset of natural superiority, and the loneliness of being an outsider. Some of my favorite passages:"...yet when, as sometime happened, he fell back on the native word, the only one that could express it, their eyes went hard, as if the mere existence of a language they did not know was a provocation, a way of making them helpless.""Slipping out into the dark he would track night-scented flowers in the summer woods, or with breathing suspended and his whole body alert, observe from a hide, in the soft night air and a liquid light with its own colours, the life of creatures that were abroad, as he was, while the human world slept. That was the joy of the thing. While the eyes of others were closed...to look in on a part of creation that is secret, but only because it lives in a different time zone from that of men."I just found something to like or at least empathize with in every character (except Sir George perhaps). The ending was even pretty satisfying and the fence imagery from the beginning was perfectly woven through to the end. This is a fantastic book that can really open ones eyes to the ridiculousness of some darker aspects of human nature. Everyone should read this book. 5 stars
Review by StevenTX
16/06/2015
Remembering Babylon is set in the Australian frontier in the mid 19th century. A young man, formerly an English ship's boy but cast ashore and raised by Aborigines, appears suddenly out of the bush. His speech is so limited that the colonists learn only the barest details of his background and that his name is Gemmy. Some are for taking him in; others fear he is a spy sent by the mysterious and hostile natives in preparation for a raid.At first glance, this would appear to be a novel about contrasting cultures and race prejudice, but it is not. Very little is said about Gemmy's time with the Native Australians, or about their culture. Instead, this is a story about those times in life when we make a decision and, looking back, realize that it will shape the rest of our lives.Gemmy's decision to leave the bush and join the colonists is, of course, one such transition, but the focus is more on the colonists themselves. Each of them has made the irrevocable decision to immigrate to Australia, but they have brought with them the foods, customs and values of England. Gemmy's appearance will trigger, in some, an even greater change of self and circumstance.Remembering Babylon is a thoughtful novel filled with beautiful passages, but has an incomplete feel about it. The author introduces many characters--perhaps too many for so short a book--in a series of vignettes with Gemmy as the thread connecting them. There is the framework here of an epic novel, but Malouf has chosen to leave it in pieces on the ground. The concept is clear, but the emotion and inspiration that might have been are lacking.
Review by readingwithtea
16/06/2015
"Strange how unimportant eyebrows can be, as long as there are two of them"In David Malouf's IMPAC-winning novel (novelette? 182 pages), a group of children in 1840s Queensland happen across a young man, unkempt and racially white, but exhibiting behaviour they and their community expect of the local Aborigines. The community is changed forever by Gemmy's arrival.I don't understand how this won the IMPAC and was shortlisted for the Booker. It's So Incredibly Uninteresting. I couldn't bring myself to care about any of the characters, the setting, the writing, just any of it. Maybe that's a criterion for book prizes.Each chapter is from a different character's point of view - we get Gemmy, Lachlan (the boy who found him), Janet (Lachlan's jealous cousin), Jock (Janet's father), the teacher... and none of them is an interesting person by themselves. There are some vague hints of interesting colonial life (dialogue is written in a strange Scotch hybrid sometimes) but it's not explored. The writing is... meh. It's not even exhilerating writing.Urgh. Take it away from me.
Review by PennyAnne
16/06/2015
This book is beyond my powers of description. I felt lifted up by Malouf's language and imagery - so many times in such a short book I found myself blown away by his mastery over words and his ability to evoke whole worlds and emotional territories through carefully crafted prose - incredibly impressive.