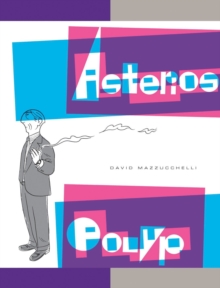 Information
Format: Hardback
Pages: 344 pages, full-colour illustrations throughout
Publisher: Alfred A. Knopf
Publication Date: 07/07/2009
Category: Comics and Graphic Novels
ISBN: 9780307377326
Free Home Delivery
on all orders
Pick up orders
from local bookshops
Reviews
Showing 1 - 5 of 32 reviews.
Previous | Next
Review by dr_zirk
16/06/2015
Asterios Polyp is a pleasant surprise - an ambitious graphic novel pulled off with considerable wit, style, and insight, all wrapped around a story that is a genuine page-turner. A standard test of any graphic novel is whether or not the story told therein really benefits from the format - what did it gain by being illustrated, instead of being conveyed through words alone? David Mazzucchelli's story concerns a "paper architect", for whom design is an important component of life, and this prompts the author to use a variety of smart graphic techniques to let design (and the manipulation of design) carry big chunks of the narrative. Highly original, and great stuff all around.
Review by VisibleGhost
16/06/2015
Asterios is one of those works that could only work in the graphic format. It seems like a simple enough story until second thoughts emerge. Mazzucchelli plays with different drawing styles that are also tributes to other artists. There is some satire, some philosophy, and some of many other things. An ending that makes one wonder, did he really do that? Or did he just make one think he did that? I thought the whole book was very well done and the author/artist will likely never top this effort.
Review by ElizaJane
16/06/2015
Reason for Reading: Cybils nomineeSummary: The book opens with a man watching, presumably, a pornographic movie, when his building is hit by lightning and catches fire. Such is how we meet Asterios Polyp, 50 year old architect. He grabs a few trinkets and as he rushes out the door we see he has a room full of videos, each one marked with a consecutive day of the week which appear to go on for years back. Through a series of flashbacks we follow Asterios' past and present as with the cash he takes a bus to however far it will get him, ending up in a hick town where he gets a job as a mechanic and rents a room in the house of his boss.Comments: The book is a study in self. It is hard for me to review this book critically as I have never studied philosophy and that is the main theme running through this book. The first thing to enter my mind was existentialism and after googling it, I found it fit the situation perfectly in my mind but I also so the opposite happening as well, so another google brought up the term nihilism. The amazing thing about this graphic novel is that the illustrations follow suit in a gripping display a graphic brilliance to fit the atmosphere of the pages.For characters, the book is sparse. Asterios himself is self-centered and egotistical. His Asian wife is his opposite: warm, tender and loving. Otherwise the book contains a handful of eccentric characters, who while also being wrapped in their own self manage to do so without the know-it-all, "I'm always right", attitude of Asterios. My favourite character was the garage owner's wife, Ursula Major a buxom, large, pipe smoking, luxurious blonde woman who follows all the Pagan religions and thinks she is part Indian because she was a Shaman in a past life.I haven't read anything by the author before so I didn't know what to expect and I must admit I thought it was quite weird to begin with but then things started making sense, I started understanding Asterios' character and I really enjoyed the book in the end. Speaking of the end, it's quite a shocker too.I would especially recommend this book to anyone who knows a thing or two about philosophy. You'll get a whole lot more out of it than I did but nevertheless, I took what I could from it and was pleased with the read.As to this being nominated for a Cybil. This is an adult book published for adults and I don't feel it should be considered for the award. The theme is adult, the grown-up characters are not appealing to teens and there are many nude scenes showing full frontal nudity down to the pubic hair on both sexes, along with sex scenes, which I do not consider appropriate for a non-adult audience.
Review by theageofsilt
16/06/2015
This is one of the best graphic novels I have read! The characters are well developed and fascinating. The art work is excellent and serves the story well. Just so everyone knows -- I live near Providence, Rhode Island and despite what Asterios Polyp says, it is not the city that always sleeps!
Review by Girl_Detective
16/06/2015
Asterios of the title is an Updike-ish architect. Recently divorced, his apartment building is struck by lightning. He grabs three items and his wallet, and takes a bus to the middle of nowhere. The story alternates between the present, where he works as a mechanic in a small town, and the past, his marriage to the artist Hana. Throughout, the art and story focus on duality, yet together they achieve something that transcends either/or.The art is highly stylized (formalistic, the reviews call it) as is the use of color, playing with variations on cyan, magenta and yellow. Each character has their own font, as well as their own art style. The many layers of artistic variation are dizzying but exhilarating.