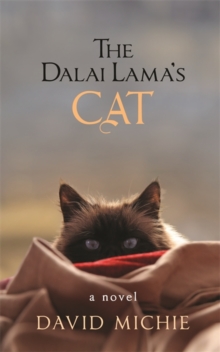 The Dalai Lama's Cat
Paperback
Description
'In the months that followed I watched His Holiness working on a new book...
I began to think that perhaps the time had come for me to turn my paws to a book of my own . . . one that tells my own tale . . . How I was rescued from a fate too grisly to contemplate, to become constant companion to a man who is not only one of the world's greatest spiritual leaders and a Nobel Peace Prize laureate, but who is also a dab hand with the can opener.'Not so much fly-on-the-wall as cat-on-the-sill, this is the warm-hearted tale of a small kitten rescued from the slums of New Delhi who finds herself in a beautiful sanctuary with sweeping views of the snow-capped Himalayas.
In her exotic new home, the Dalai Lama's cat encounters Hollywood stars, Buddhist masters, Ivy-league professors, famous philanthropists, and a host of other people who come visiting His Holiness.
Each encounter offers a fresh insight into finding happiness and meaning in the midst of a life of busy-ness and challenge.
Drawing us into her world with her adorable but all-too-flawed personality, the Dalai Lama's cat discovers how instead of trying to change the world, changing the way we experience the world is the key to true contentment. Featuring a delightful cast of characters, timeless Buddhist wisdom, and His Holiness's compassion pervading every chapter, The Dalai Lama's Cat is simply enchanting.
Information
Format: Paperback
Pages: 232 pages
Publisher: Hay House UK Ltd
Publication Date: 01/11/2012
Category: Religious & spiritual fiction
ISBN: 9781781800560
Free Home Delivery
on all orders
Pick up orders
from local bookshops
Reviews
Showing 1 - 2 of 2 reviews.
Review by krazy4katz
16/06/2015
I can think of nothing more pleasurable than a comfortable chair, a cup of hot tea and cat on your lap while reading "The Dalai Lama's Cat". It is the quintessential definition of heaven on earth. The story line and the lessons on mindfulness are simple; the writing has just enough humor to hold your attention and make this a relaxing and fun read. I loved it and I learned a lot about the Buddhist concept of mindfulness and how it can be used to improve the quality of one's daily existence. Besides, who could possibly be a better model of mindfulness than a cat? Perhaps only the Dalai Lama himself.
Review by Vivl
16/06/2015
Tibetan Buddhism for Dummies with a cat, basically.This was the second book I have been required to read for the book club I recently joined. The first was a cracker, while this one was frustrating in many ways despite the quality of writing not being really bad. In fact, it's largely quite good.Let me start by getting all the things that REALLY annoyed me off my chest: 1. This is basically a reworking, often obviously, of the set of three classic Japanese episodic novels <i>I Am a Cat</i> (published 1904-1907) by Soseki Natsume. The debt David Michie owes Soseki is not acknowledged, and the Japanese original did this significantly better. I don't take kindly to such blatant ripping off of ideas. 2. This is not a novel. It is a thinly-disguised guide to Tibetan Buddhism, with scraps of story mixed in. Having "a novel" on the cover leads one to anticipate... a novel! (Apart from which I've always hated that "a novel" crap.) 3. There is a disclaimer at the front saying "Any similarity to [...] persons living or deceased, is strictly coincidental." Bullshit. Clearly.There are cute bits, there is humour, but not enough. There were moments where, for a page or two, the story started to come to the forefront and I actually began to enjoy myself, but that didn't last long and I was smacked down once more into the schoolroom to ingest another lesson on Tibetan Buddhism. None of this is terribly surprising I suppose since Michie is better known for self-help books on Buddhism aimed at "busy people". He's not going to aim his writing at a high intellectual or critically rigorous standard as that would put off his intended audience.I'm interested enough in the subject but object to being treated like an idiot. I'm happy to have got through this in a relatively short space of time and to be able to turn my attention to something I actually want to read!