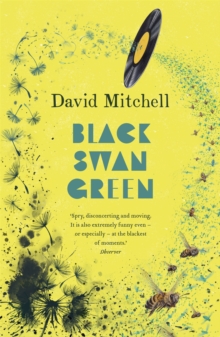 Black Swan Green
Paperback
Description
The dazzling novel from critically-acclaimed David Mitchell.Shortlisted for the 2006 Costa Novel AwardLonglisted for the Man Booker Prize 2006January, 1982.
Thirteen-year-old Jason Taylor - covert stammerer and reluctant poet - anticipates a stultifying year in his backwater English village.
But he hasn't reckoned with bullies, simmering family discord, the Falklands War, a threatened gypsy invasion and those mysterious entities known as girls.
Charting thirteen months in the black hole between childhood and adolescence, this is a captivating novel, wry, painful and vibrant with the stuff of life.
Information
Format: Paperback
Pages: 384 pages, None
Publisher: Hodder & Stoughton General Division
Publication Date: 18/05/2006
ISBN: 9780340822807
Free Home Delivery
on all orders
Pick up orders
from local bookshops
Reviews
Showing 1 - 5 of 12 reviews.
Previous | Next
Review by damn_camera
16/06/2015
This is the third of Mitchell's books that i've read, and although it is quite different in style to his others, there are definitely themes that crop up, not to mention a character, that are familiar from his other work. Jason is an almost instantly engaging character, and despite a lot of 80's retromania thrown in, the book really sucks you in, and makes you care. quite a simple story on the surface, there nonetheless feels like there's a lot going on under the surface, and like the rest of his books, i'd recommend it without hesitation.
Review by deargreenplace
16/06/2015
Am I the only person who didn't like this book? I am normally a huge fan of David Mitchell, but Black Swan Green was dull.It is the suburban and pedestrian tale of 13 year-old Jason Taylor. Middle class, middle England. Crushes, fights, adventures, gangs, adolescent discoveries, families. Not a lot happened.Mitchell seemed to get a huge kick out of dropping in references to long-gone relics of the 1980s in just about every paragraph. If this is what you want, I recommend watching the tv compilation I Love The 1980s instead.
Review by klarusu
16/06/2015
A cultural-reference-soaked journey back to the 1980s, perfectly aimed at the 35+ generation, who came of age during this decade just as Mitchell's protagonist is doing.On one level, this book was extremely well-crafted and catapulted me backwards to a time I remembered oh so well. It made it very easy to identify with the main character from the outset - a boy on the cusp of teenage awakening, dealing with bullying, stuttering, divorce and the change in family dynamics caused by an older sister moving away. The reader follows him through first crushes and kisses in a way that is almost painful for those of us who were in his position at the same moment in time. The fact that I remained caught up in his really mundane life is a testament to Mitchell's easy writing style and the reality of his characters.On another level, the book isn't subtle. The cultural references fall thick and fast in every paragraph and I would be interested to know how it reads for someone of a different age or cultural background for whom the social and commercial references have a less immediate meaning.I thoroughly enjoyed this nostalgia ride and find Mitchell's prose style, while not deep, extremely accessible and easy on the reading ear. I would certainly recommend it: for those of us that lived that time, it will take you right back and for those that didn't, it will show you clearly what it was like for the rest of us!
Review by CaroTheLibrarian
16/06/2015
I enjoyed this nostalgic look at childhood in the 1980s, and the coming of age story of Jason. I agree with some other reviewers that his 13-year-old voice didn't always seem to ring true, but there were so many other enjoyable aspects of this novel that that didn't detract too much. With its backdrop the Falklands War, this is obviously a highly autobiographical book. I'm intending to read more of Mitchell's writing to see how it compares.
Review by celticstar
16/06/2015
I haven't read anything else by David Mitchell so I can't compare but reading the blub for his other books this does sound really different. I was 10 in 1982 so this was a nostalgia trip for me too and I really enjoyed it. Like Jason I'm also the youngest child, the one that never gets told what's going on! British Bulldog was banned in my Primary School the year I arrived, boys may have played it out of School but thankfully I didn't get to witness this if they did.